XLS to CSV Converter ~ Total Solution
1. Facing problem with converting XLS files to CSV?
2. How to convert an existing Excel file into a CSV format?
3. Unable to convert XLS file in CSV file?
Several problem – One Stop Solution; Birdie XLS to CSV Converter.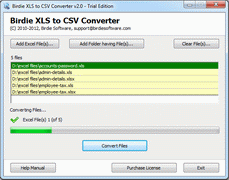 XLS to CSV Converter program is devised & developed to help users while converting Excel XLS file into CSV format. Software effortlessly convert XLS to CSV with complete Excel sheet details, that means you can now open, read or view your XLS files data in CSV format without any complication.

** Demo will helps you to know about software working effciency, it will convert 1 xls file at a time
What Is CSV file?

The CSV file format is a Comma Separated Values file type that stores tabular data by using delimiters. In this case, the CSV format mainly uses commas and double-quotes as delimiters.

CSV files are commonly used for transferring data between databases in a simple text-based format. CSV files can be opened within simple text editors and can be easily transmitted and supported by a number of spreadsheet applications and databases for the reason being their simple textual formatting.
Convert XLS to CSV in 2 Different Modes – Single & Bulk Mode

Birdie XLS to CSV Converter is packed with two different conversion mode that is Bulk & single Conversion means. By using this utility you are enabled to convert arrays or single XLS file to CSV file extension.

• Single Method: With this mode you can convert single as well as selected .XLS file to .CSV format without any hurdle.

• Bulk Method: By using this method you are able to convert multiple numbers of XLS files into CSV format at a time as it works as XLS to CSV batch converter software.
View Video Series to know the Conversion Process of XLS to CSV Converter
Standalone Features of XLS to CSV Converter :
Powerful yet smart utility to convert XLS to CSV format


XLS to CSV Converter is available in batch / group conversion mode


Supports to save total XLS files information's during the conversion process.


Convert XLS & XLSX to CSV format in hassle-free way.


Able to convert multiple Excel sheets to CSV at one time.


XLS to CSV Converter is easy-to-use tool as 1-2-3.


Quickly convert XLS file to CSV in one click.


Command-line version of this tool is available.


Works with all latest Windows versions – Win 7, Vista, XP, etc.
Give a try to the most hot and reliable XLS to CSV converter which being offered from the lab of Birdie Software to convert, move, export, migrate or transfer Excel .xls or .xlsx to .csv file format in trouble-free manner.
**Note - Try DEMO before you invest for the License Edition
Buy License