Make Windows Mail to Outlook Conversion Simplified
Probably this is a frequently asked question that you want to transfer emails from Vista Mail to MS Outlook.
Although Windows Mail includes familiar features of Outlook, but not available with every windows machine whereas MS Outlook is an easy to use application available in all window machines. If you are using it from start then you don't have to migrate from one email application to other.
Today Outlook is a perfect email client for many business users and thus they look for migration.
So, here is the more specific solution…
Direct Import/Export option for conversion is not possible, you have to follow some steps. As it saves email files in EML format and Outlook stores in PST format, you need to convert in a format which is compatible with MS Outlook. To transfer all emails of mails (EML files) into Outlook (PST files), there are 2 ways:
First is automated way which gives perfect conversion process.
Second is Manual procedure which is bit lenghty & workable ofr fewer files only
Assured Method for Windows Mail to Outlook Conversion
Above procedure works smoothly when few files has to be converted but practically it is not feasible for larger files. Since there is one file for each email, this procedure takes long time and if these mails have confidential data then it will be risky as it may affect the original data.
The automated way easily allows you to convert all your files by using Windows based converter tool which read multiple files at a time, assuring higher accuracy and efficiency.
FREE Download Now
Version: 6.9v Purchase Now
Price: $39
Steps involved:
Step 1 - Install

tool
Step 2 - Then click Add Folder having (*.eml/ *.emlx) file(s)....
Vista Mail .eml files location:



Step 3 - Now click "Convert Messages" and give location to save the converted PST files Outlook.pst files location:

Conversion of Windows Mail to Outlook is successfully completed.
We have seen that manual way require 8 or more steps and third party tool require only 3 steps so, using third party tool is the wisest decision to conversion.
Now you must be looking for trouble-free & trustable professional tool then Birdie Software's tool is the best choice. This tool gives easy and guaranteed solution to migrate multiple emails and preserve their respective folder structure in MS Outlook.
Why it is wisest choice to select Birdie

Software's tool for conversion?
It gives fast and rapid conversion of multiple Emails in one go
Batch conversion of emails while keeping folder structure intact
This tool supports all version of Outlook and Windows machine
Follow the steps for Manual conversion of Windows Mail to Microsoft Outlook:
When both are installed on the same computer-
Step 1 - Install both apps with configured email accounts
Step 2 - Now use "File => Export => Messages" in WM to transfer all email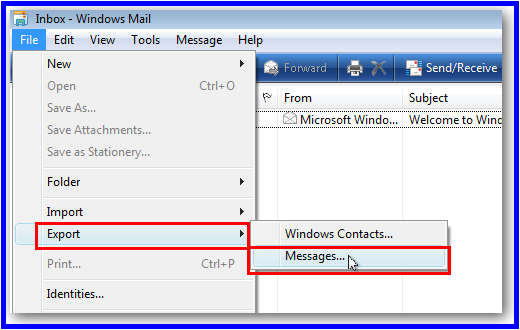 Step 3 - Here select the format you want to export email to and there choose: Microsoft Exchange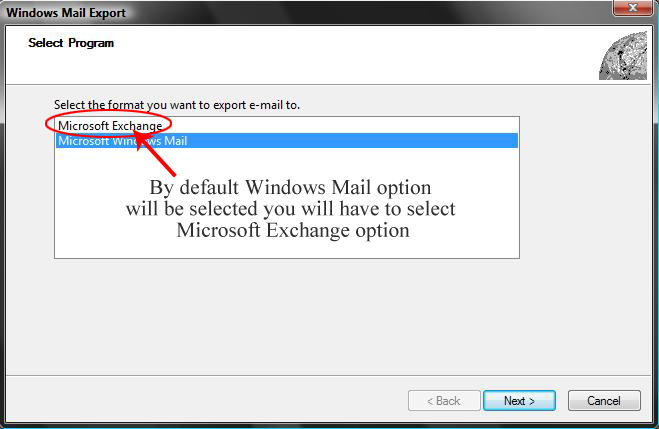 Then confirm the information dialog you get about exporting to Microsoft Outlook or Microsoft Exchange
Now select which folder(s) you want to export to Outlook
Now wait till the time takes for conversion process which depends on how big your message store in Windows Live
By default the all the emails will be saved in OST format in Outlook store location:

How to open OST file in Outlook?
To open OST file in Outlook there are 2 ways:
If your machine MS Outlook is configure with MS Exchange then you can import OST file in Outlook from File Menu "import option" & view.
If Outlook is not configure with MS Exchange then either you can rename the OST extension into PST or convert OST file into PST format using some third-party tool then go to File >> Open >> Open Date File, browse for the pst file from your machine & open.
Note: It is preferred to use WM 'Export' option to move the email messages to Outlook instead of Outlook 'Import' option.
Important - During the conversion process, you must use the 32-bit version of Outlook. Later you can remove the 32-bit version and install the 64-bit version, no settings or data will be lost.
Note: It also makes a difference when both applications are not installed on the same computer.
When Outlook is located on another computer-
In situation where both are are not located on the same machine and Windows Mail contains all messages. Here the conversion process includes some more steps. There are 2 options:
Install Outlook on the machine in which Windows Mail.eml files are saved. And then backup your Outlook data on the old machine and restore it to the new machine.
Move the entire .eml message store from Windows Mail and reconfigure it with Windows Mail on the new machine.
After this, follow above process to get everything into MS Outlook.