Process to Convert Windows Live Mail to Outlook
"To take the benefit of highly developed features of MS Outlook, I was moving my WLM directly into my Outlook mail files. But importing email messages is not a feasible process especially when I intend to move a large number of emails…I am having Outlook 2010 64bit"
This is one of the most common issues that users come across and failed to find any satisfactory solution. So we are here to solve your problem
As known, Windows Live Mail can access multiple e-mail accounts in one place and save emails in EML file format. And, MS Outlook is stand-alone e-mail client of Microsoft Office; which saves email and other data in PST file format.
Due to innumerable advantages of Microsoft Outlook over WLM mostly users want to convert files. But how to convert Windows Live Mail emails to PST format, is an important question. There are both manual and automated processes available have a look.
Simple Way to export Live Mail to Microsoft Outlook 2010 64 bit/32 bit or other Outlook Versions
There is manual procedure available for converting emails, but it is not practicable for large number of emails having complex directory & subdirectory structure. So, the simplest way to accomplish the task is using any third party; which helps you to perform batch conversion from Windows Live Mail to Outlook without any data loss.

software assures easy email migration and requires no technical knowledge and with its Advance features like
Supports Multiple Files conversion at a time
Allows to import Windows Live Mail emails to Outlook 64 bit or 32 bit (Supports Both Versions)
Preserves accurate e-mail folder hierarchy
Save all embedded attachment with their respective emails
Perfectly restore read/unread email message status
Retains all the emails formatting (Bcc, to, from, Cc, time, data, subject) and elements (images,font, text, links, etc)
How to convert?
Step 1 - Install the tool (Go to Start -> Programs -> )

Step 2 - Click Add Folder having EML/EMLX File(s)...
In Outlook 2010 & below version Click on Data File Management

Email folder location of Windows Live Mail:

If you can enable to find the location of WLM emails folder then simply go to this link to know how to locate files of Live Mail in your computer.
Then click "Convert Messages" button
Next simply select the location to save the converted files
Conversion of files is successfully completed
After that you can import converted files in to Microsoft Outlook using the Import Option.
Here we can conclude that automated process ensures quick, convenient, safe and accurate conversion than manual process.
FREE Download Now
Version: 6.9v Purchase Online Now
Price: $39
How to Manually Convert Live Mail into PST?
Here are steps that help you to perform manual Windows Live Mail to MS Outlook 64bit / 32bit Conversion
Step 1 - Open WLM
Step 2 - Go to File Menu & Select 'Export Email' then 'Email Messages'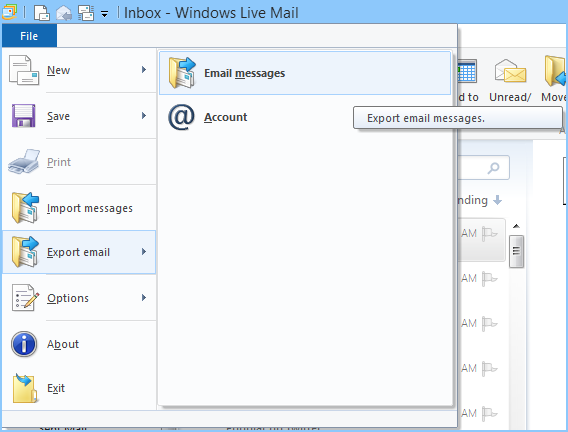 Step 3 - Then select "Microsoft Exchange" option and click on 'Next'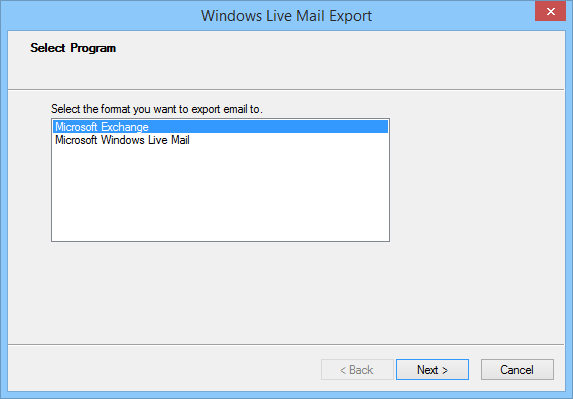 Step 4 - A message is displayed, "All emails will be exported to Microsoft Outlook or Microsoft Exchange"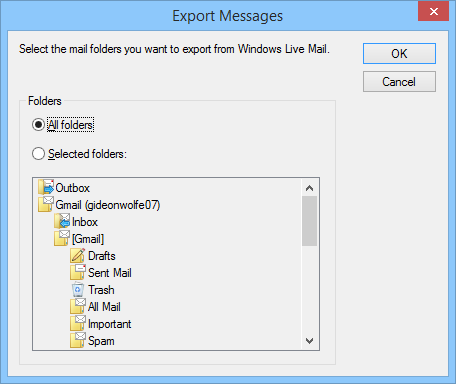 Now click 'OK' and wait for a second. Next, you need to select folders that you want to be converted
Select some or all of them. Then click 'OK'
When the process completes, a popup comes up; click 'Finish' to exit.
While converting manually, you will be required to convert each folder of Mails separately one by one so the whole conversion process is quite a complex operation and takes time depending on the number of files needed for the conversion. Also, there is the possibility of data loss too. It is not sure that you will be able to convert all your files. Plus you can do this only when you have both application install in the same machine.
If you are thinking that third-party tool is a better option, than download this tool to export Windows Live Mail to Outlook 2010 64 bit or 32 bit version from here: