Steps to import Windows Live Mail (.eml) to Mac Mail
WLM is a default emailing application offered by Microsoft with Windows 7 or 8 OS & similarly, same as Mac Mail in Mac OS. Procedure to manually import Live Mail emails to Mac Mail is lengthy, because both applications are in different machines. Above that WLM emails are in .eml format although Mac Mail supports this format, importing mails directly can still be very tricky & time consuming.
In this circumstances it is better to rely on 3rd party tool for the task. Below you can read about it in details.
What is
It is an email conversion tool provided by Birdie Software, using which you can convert Live Mail files in MBOX format in 2 Step only. Just download & install the app in your machine then:
Locate & select mails folder
Click on Convert button
Click and see complete working procedure
In seconds all the files will be converted, then transfer the files to your Mac OS machine & import files. How to Import MBOX file in Mac Mail?
While importing files the software also provides you will batch mode option. This allows you to import entire WLM mail folder at once, which saves a lot of time. It also keeps the details of the messages also save, which means you will be able to read the mails after conversion as it is with formatting, meta-data & also the attachment files of the mails.
For a better understanding of the software all you need to do is, download the tools demo edition for a free product trial.
FREE Download Now
Version: 6.0v Purchase Now
Price: $49
Manual procedure to import Live Mail emails into Mac Mail
To import emails you must first locate WLM emails folder and the default store folder location is: C:\Users\ logon \AppData\Local\Microsoft\Windows Live Mail.
Import Windows Live Mail to Mac Mail via Thunderbird
Download & install Thunderbird in your machine & create an account in it
Step 1 -Now open the following link https://addons.mozilla.org/en-us/thunderbird/addon/importexporttools/ & download the Import Export Tools & save plug-in to your system hard disk (.xpi file)
Step 2 -Open Thunderbird & install this add-on
Step 3
- Restart Thunderbird & go to Tools menu, click Import Export Tools » Import all Messages from a directory » also from its subdirectories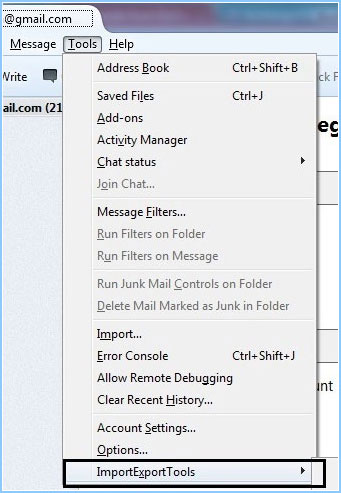 Step 4 - Locate & Select EML files folder from store location
Step 5 - Again go to Tools Menu Click on Add on » Options » Export Directories. Check on "Export folders as MBOX file". Using the browse button Select a folder to store files after exporting.
Step 6 - Go to Tools Menu » Import Export Tools » Export all the folders
Step 7 - Go to the saving location to view Thunderbird files
How to Import MBOX files in Mac Mail?
Now using a pen drive or any other transferring device move the files into Mac OS
Step 1
- Open Mac Mail go to File -> Import Mailboxes » Continue
Step 2 - Locate & select the mailbox files click on Continue
Step 3 - And that's how you can view Windows Live Mail emails in Mac Mail
Open EML directly in Mac Mail
First transfer all WLM files into Mac OS machine (use any flash drive).
Now double click on a file it will open in Mac Mail (it must be the default email client of the Mac OS) and click on Message > Move To > mailbox_name.
Repeat the procedure with all the emails.
Reading about all the steps is tiresome, than you can imagine how much time it's going to take when you actually go through these steps to import Windows Live Mail to Mac Mail, it will take your whole day. You can avoid all of this simply by using any third-party application like

.