vCard Importer ~ HOT vCard Contact Importer
Eager to import vCard Contacts to Microsoft Outlook contacts environment?
Grab the benefit of Birdie vCard Importer for vCard Contact Importer process.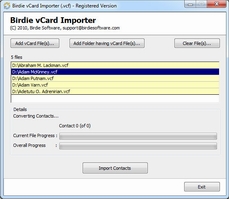 Birdie vCard Importer program is the ultimate and commendable solution for those users who are wishing to import vCard file into Outlook in easy way. This vCard file importer utility is basically consent to help users to read, access, open, use all your vCard contacts into Office Outlook contact's location by untouched remaining vCard.vcf files data or information's throughout the vCard importing process.
vCard Importer program is the standalone utility that easily perform the task of vcf contact importer by including all contacts field's data such as; full name, address, phone numbers, e-mail address, photos, web page address, notes, job title, etc. Via vCard Importer solution you can also import vCard to Outlook 2010, 2007, 2003, 2000 & other older versions directly.  
You Can Also Import vCard to Outlook with Multiple Contacts in it using vCard Importer PRO Edition
HOT Key Features of vCard Importer Program :
Complete vCard Import Process : Software completely allowed you to Import vCard Contacts to Outlook with all contacts field's data is possible like; name, address, images, phone number, etc.

Batch vCard Importer : Import vCard file in group / bulk mode is possible in one go without loss of any data.

Import vCard file to new PST file and recreates same folder structure.

vCard Versions : Software supports all vCard formats such as; 2.1 & 3.0, etc

vCard Importer tool easily supports Unicode PST Format (2010, 2007, 2003) as well as Ansi PST format (Outlook XP, 2002, 2000)

vCard Importer Pro Edition : Import single vCard as well as vCard file having multiple vCards at a time in a hassle-free manner.

Compatible Versions : Runs completely on Windows 7, Vista, XP and other earlier versions.
vCard Importer is a professional utility that comes with user-friendly interface so that any non-technical person or user can use this solution to vCard import to Outlook area in a simple approach. We guaranteed you that Birdie vCard Importer software never let you down during the VCF Importer process.
vCard Importer Process – How to?
Follow some effortless steps / directions to Import vCard with vCard Importer :
1. Download & Install Birdie vCard Importer
2. Open and Select vCard files / folders to import
3. Hit Import Contacts button to import vCard contacts

By the following above steps you can import vCard to Outlook in with no trouble.
Hence, Birdie Import vCard software is the HOT & Capable solution that successfully import vCard contacts to Outlook with complete contacts data in easy mode. Its being highly recommanded that try DEMO before get the License Version with Key.