How to Remove Local Restrictions from Secured PDF?
PDF is a file format which once created retains the format you give it. It is a preserved portable document file format. It is always appears the same no matter where, how and who opens it. PDF files are is easy to keep, send, receive and use.
The unfortunate side of PDF file is that although it is well preserved file; sometimes it could be blocked or restricted. You cannot open or modify a PDF file if you haven't originally created it. When you get a PDF file either from online, a friend, family members, or co-worker, then it may be password protected. Two types of passwords are attached with the PDF files – User Level & Owner level password. The first type of password prevents from opening / viewing the file and second type of password prevents you from doing anything other than opening the file.
What is this PDF Restriction?
PDF Restriction is permissions password; which restricts you from editing, modifying, copying or printing the PDF file.
How Can I Know If a PDF File is Restricted?
There are two ways; you can get to know PDF file is restricted-
When you are not be able to open, copy, edit or print PDF documents even with the latest version of Adobe Reader, check the Document Properties of the PDF file. While checking the properties, you will find that only some actions can be performed on the PDF document. These restrictions are usually imposed by the creator of the document using Adobe Creator or Acrobat.
When you see the icon Adobe Acrobat Reader Security Icon at the bottom left of the Acrobat/Acrobat Reader program window, it indicates that the PDF file is secured. Place your mouse cursor over that 'locked' icon, and you will see a listing of the security options that were applied to the file.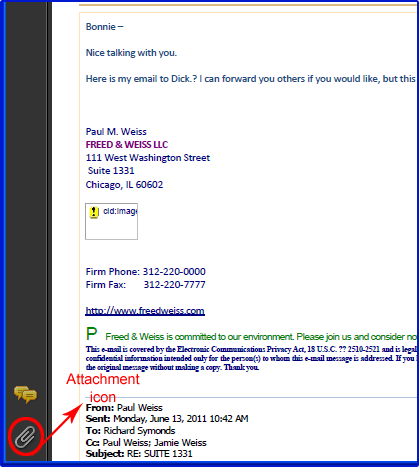 View Restriction of PDF Document Using Adobe Reader
Click File -> Properties -> Security tab when the Document Properties dialogue box appears, like below image -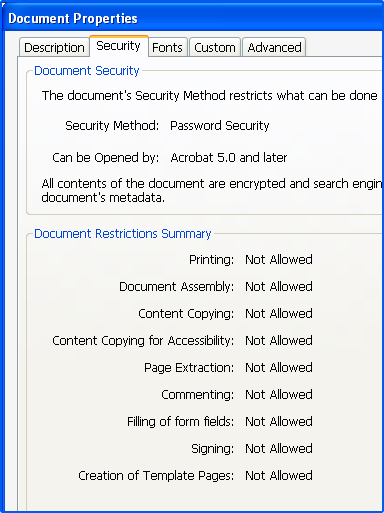 Here you can see Information on document security and document restrictions.
Although the PDF restrictions helps in protecting the PDF files from being wrongly used and keep the information secure; at times it is required to make the changes in a restricted PDF file.
But, successfully unlocking the PDF files for copying, printing or editing is not possible and also there is no such manual process available to Remove PDF Restrictions. Here, the PDF security removal tool comes into picture.
If you want to Remove PDF Restrictions from secured PDF files then use PDF Security Remover which is the best utility to unlock PDF files. After unlocking PDF files you will have complete command on all the previously locked PDF files and then you can copy, print, and edit text from that PDF file.
PDF Restrictions Security Remover tool helps you remove restrictions from all type of PDF documents in few simple steps:
Download and Install the software
Launch the PDF Security Remover Program
Browse and Select PDF files (you will need to click the "Add Files Button")

Select the location path and Click 'Remove Security from PDF File(s)'

In the end, software will unlock the secured PDF from all the restrictions. You can print, fill in a form, comment in the document, manage pages, modify document, and content copying.
Using Birdie Software's PDF Security Remover can easily fulfill your requirement within a few minute without wasting your time. The important features of the PDF Restriction Remover tool are:
No need to install Adobe \ Acrobat, it is a stand-alone utility
Preserves the original structure and format of the document
Easy to use and supports PDF restrictions Remover in batch
Works with all Windows machines
Removes copying, editing and printing restrictions with a single click
Supports all versions of Adobe Acrobat and even with 128 & 256 bit encryption
Remove PDF Restrictions by HOT PDF Security Remover is a good, quick and easy PDF restriction removal utility. This utility create a new restriction-free PDF file; which enables you to edit, print, copy or extract data from the PDF file. But it does not allow unlocking password protected PDF document or decrypting an encrypted PDF file. But, it is an independent tool that is capable enough to remove local restrictions from PDF file without requiring Adobe Acrobat Reader on the system.