Export Postbox to Outlook PST format
Remove Quandary to Export Postbox Mail to Outlook .PST format with professional MBOX Converter
FREE Download Now
For Windows 10/8.1/8/7/Vista/XP Buy Online at $39.00
Order & get full-featured software
Postbox is a very simple and easy to use email client, it has features like file sharing option, smart contacts sidebar option, Send and Archive option, emailing, messaging, etc. But Postbox is not that much successful, because it is very new application, plus has no user based features.
Postbox saves its emails in .eml format but its mailbox format is MBOX and we all know that MS Outlook used to save its data into PST file format. Postbox has to option to export data into MS Outlook. If you want to export Postbox to Outlook, then first you have to convert Postbox to Outlook PST format as it saves files in mbox format and to do that you should use the perfect software that helps you to convert postbox emails into PST format with accurate emails data and details.
Export Postbox Mails to Outlook — Why?
Postbox provide you option to import emails from MS Outlook but it will not provide any option to export emails form it and also there is no option to export Postbox mails to Outlook. Postbox saves its individual emails in .eml format and its mailbox is saved in without extension like – INBOX, OUTBOX.
When we go to Postbox store location, we found that two type of files are created by Postbox application, but as we know that Postbox Mailbox has no extension but it also create backup file with .msf extension.
Location of Postbox - C:\ Users \ admin \ AppData \ Roaming \ Postbox \ Profiles \ mmpwb7x1.default \ Mail
So to have MBOX file we have to rename the postbox without extension files with .mbox file for example – rename the INBOX file with INBOX.mbox.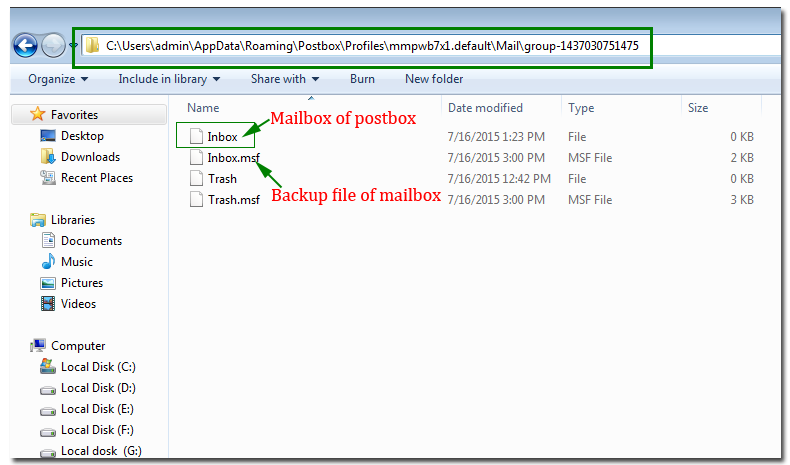 Export Postbox to Outlook — How?
Postbox to Outlook Converter can fix that, Overcome with Postbox by switching emails from Postbox to Outlook
To do that task, you have to convert your Postbox emails into PST format and to perform this, you need an expert tool that would help you to convert Postbox mailbox without any problem.
MBOX Converter is the right tool that convert Postbox mailbox to PST, it support to convert Postbox Mailbox without extension or with MBOX extension file for conversion. You only have to add the folder to software from postbox store location.
When you use this software, without any problem you will be able to export multiple mailboxes of Postbox to Outlook PST format and software will make sure that all the emails formatting, attributes, items and attachments will remains as it is.
Convert Postbox to Outlook
Launch the software
Add the Postbox Mailboxes having folder
Choose the .pst files format option to convert the emails of Postbox to Outlook
Then click on Convert button and choose the location to save the converted pst file. Software will create single PST files for all Postbox emails.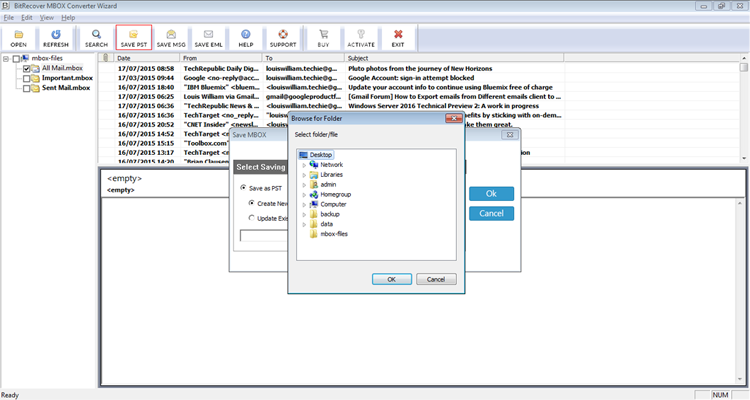 After completing the conversion process import the converted PST file to MS Outlook. And once you import PST in Outlook then also you can Export Postbox Outlook Exchange
Features — Postbox to Outlook Converter
Multiple files conversion option – Tool has batch files conversion feature that let you convert multiple files at a time. Browse the folder having all Postbox mailboxes to software "Add Folder…" option.
Support all MBOX files supported apps – Software supports all MBOX files supported applications. Users can convert MBOX files from any MBOX files supported applications.
Retain all emails formatting – software retains all emails formatting, header formatting, images, etc, during the conversion process.
Convert attached files – If you emails having attachments then software will also convert attachments with their respective emails and maintain attachments into their original format.
Support all Outlook versions – Software create UNICODE PST file which is supported by MS Outlook 2003 and all above Outlook versions including Outlook 2016. Software complete the whole Postbox to Outlook conversion process without corrupting the PST file.
Windows supported applications – This software is windows based application, it supports all Windows OS Version including Windows 10 and all below versions.
FREE Download Now
For Windows 10/8.1/8/7/Vista/XP Buy Online at $49.00
Order & get full-featured software