How can I Open MSG Files on Mac?
I have got quite a collection of MSG files with me, so far I have been reading them in free MSG file Viewer. But now I have got a new Apple Laptop & want to have a one stop location to save all MSG files. I want to know in which email client I can read MSG files & have it install in Mac OS.
Unfortunately there is no app in Mac OS that allows you to read MSG file, so there is only one option which you are left with i.e. you can convert MSG files into MBOX format after that you can import the emails in Mac Mail or Entourage.
How to convert MSG to MBOX format?
There is no particular manually procedure to get this job done. You can try thing though, change the extension of messages from .msg to .mbox. But chances are not it will not work & most probably the files will get corrupt which also means that you may lose the MSG files as well in the procedure. You can try it if you want but that is not recommended at all.
There is an automated solution available to get this work done which is you can have it done with help of a third-party tool. These tools are very reliable & very quick in there working.
Birdie Software gives you one such amazing tool i.e. MSG to MBOX Converter. This tool will convert all your MSG files at once in .MBOX format. MBOX is a mailbox format which is supported by the application like Thunderbird, Mac Mail & Entourage.
FREE Download Now
Version: 2.6v Purchase Now
Price: $29
How does MSG to MBOX Converter works?
The procedure for converting .msg files to .MBOX format is quite easy with this tool just follow the steps which are mentioned below & you can have the job done in seconds:
Step 1 - First download the app & install it in any Windows OS
(Now we suggest that you have all the MSG files store in 1 folder so that you can convert it at once into MBOX)
Step 2 - Choose messages using any of the button shown in the image below

Step 3 - Now you only have to click on Convert button & let the procedure begin (You will be asked to choose a location to save the files)

Step 4 - Once the file is converted you can go & check in the saving location
Step 5 - You then have to move the MBOX file in the Mac OS using a Pen drive or some other transferring device.
How to Open converted MSG files in Mac?
As we already know that there is Mac Mail & Entourage available with Mac OS. Here we will discuss the procedure to import MBOX file in this applications:
How to Import MBOX in Mac Mail?
Step 1 - Open Mac Mail have an account created in it
Step 2 - Now go to File >> Import Mailboxes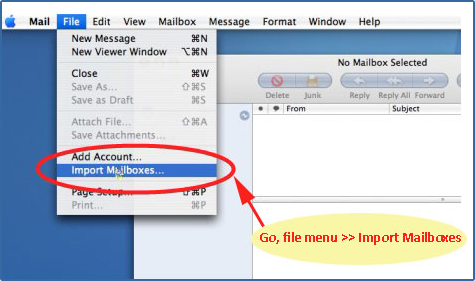 Step 3 - Choose the option Files in MBOX Format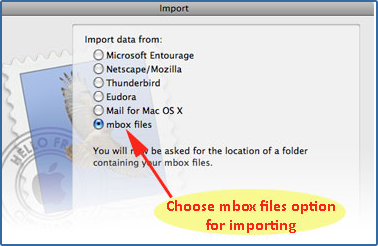 Step 4 - Locate & choose the MBOX files from store location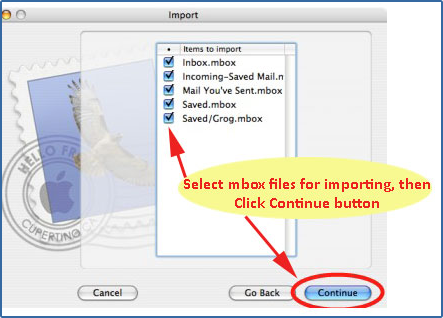 Step 5 - And import, now you can view the MSG files in Mac Mail after conversion
How to Import MBOX in Entourage?
Open Entourage
Click on File >> Import MBOX Files
So what do you think,wasn't it easy to Open MSG files on Mac OS email client?