MSG to PDF Converter - Immediate Solution to Your Problems !
Need a comprehensive solution to print your Outlook MSG email messages to PDF file ?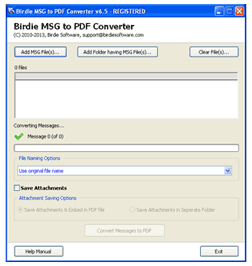 MSG to PDF Converter is the comprehensive solution for you !
Outlook stores each email message as compound file format. You can backup all email messages from the Outlook Personal Storage file (.pst) as .MSG files. You can use the drag and drop method to drag all Outlook email messages from a folder and save the messages as .MSG files. But to view exported .msg messages you need Outlook to be installed on the machine. Now to view msg files without Outlook you need to convert the messages into a format which can be easily readable with most commonly used applications. One of the most commonly used desktop application to read and store documents is Adobe Acrobat file format (.pdf). PDF is one of the most suitable file formats for storing written information or details. So converting Outlook messages to Adobe Acrobat PDF files is a wise option. As it also allows us to easily store and print email messages in PDF format.
The updated edition of Convert MSG to PDF utility comes with 2 separate Attachment Saving Options

1.Save Email Embedded & Attachments in same PDF folder - The users can simply save Outlook email messages attachments or attachments folder in the same PDF folder.

2.Save email Attachments in desired Separate Folder - Makes you able for saving your outlook email attachment  in any desired separate folder.
MSG to PDF Converter program is an easy as well as simple to use email converter application that leads you to carefully archive all MS Outlook MSG emails files as PDF file format.
Get the licensed version of Convert MSG to PDF Application to enjoy the batch or multiple messages conversion.
» Know the enite MSG files to PDF files conversion process with the help of given video series:
MSG to PDF software is now available with Command Line support!
MSG files to PDF Converter is developed to move /migrate / export/convert Outlook email messages to PDF format.

*Note - You can run MSG to PDF Command Line edition with Windows Start/Run dialog
MSG to PDF Software - Fantastic Attributes :
Easy & Simple to use MSG to PDF Converter application with a Simple GUI Interface.




Convert MSG emails to PDF with all MSG email ingredients like: To, From, Cc, Bcc, Date & Time, Attachments & other.




Offers to save converted PDF file through different naming options for saving email files such as - subject + date (date-month-year), from + subject + date (date-month-year), date (year-month-date) + subject + from, date (YYYY-MM-DD-HHMM), from + date(YYYY-MM-DD-HHMM), date(YYYY-MM-DD-HH:MM:SS)+subject + from (etc. (Latest Updated Edition)




Supports attachments conversion of the MSG email files and allows you to save all attachments along with converted PDF files.




Preserves all email formattings while MSG emails exported to PDF format.




Supports batch conversion of MSG messages to PDF format and does not modify the original structure of email folder throughout the conversion procedure




MSG to PDF program is fully compatible with the new Win 8, as well as all old Win version like 2002, XP, 2003, Windows 7 (64-bit / 32 - bit) & Vista etc.




You got the Manual Help facility with this software through which you can take any kind of technical help any time while executing MSG to PDF Conversion task.
Important Note:
The Trial pack of MSG to PDF Converting software converts 1 MSG to PDF file format. For complete and unlimited conversion of MSG messages to PDF documents purchase the registered version of the MSG to PDF software.
Order a License from Order MSG to PDF Converter License