Export Google Takeout MBOX File
To convert Gmail MBOX to Outlook PST, First step is to take backup of Gmail using Google Takeout
To Export Google mail to Outlook, just follow the simple steps and make sure you are connected to internet properly. Open your browser.

Login to Gmail Account
Go to My Profile at the right most corner of the Account Picture.
Another Window will be open. In Personal info & Privacy click on Control Your Content
Choose Create Archive OR Simply login to "takeout.google.com"
In Download your Data SectionSelect Data to Include
Select None firstly & Select only "Mails"(if you dont want to take backup of any other data.)
Click Next >> Customize download format & File type.
Select .zip format and Delivery Method as "Send Download Link via email"
In Details section, Click on Download
OR
Go to the previous window of your mails a link of data to download will be send to you in some time. Download that .zip folder.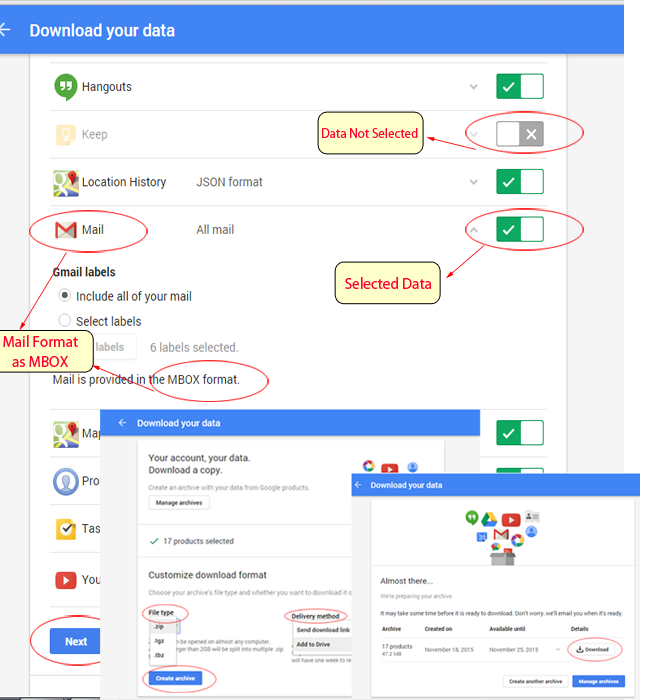 If not clear or for more details Follow the Link
It can be NOTED that You can take MBOX file of all the mails at a time or You can select the labels according to you need. Whether you want to take backup of only Inbox or Sent or any other label. It totally depend on you but it will create gmail takeout mabox file only, for the mails.