Export Excel to PDF in a Exact Mode....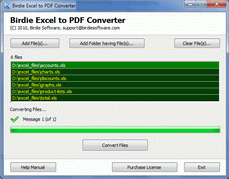 Looking for a perfect solution to access all your files saved in Excel spreadsheet to PDF format environment? Then it's definitely necessary for you to export or transfer Excel to PDF format.
To implement the task in efficient manner go forward with Excel to PDF Converter to transfer Excel to PDF. Our Export .xls to .pdf utility allow you to convert all excel records in pdf format in step by step method.
Excel to PDF Converter program is an unproblematic and powerful utility which comes in need to several peoples who are wishing to carry out excel to pdf export process in relevant manners. The implementation of export Excel to PDF process is very easy now by using our software.
How to export Excel to PDF, Is there any quick way?
To export Excel to PDF in quick way you can use our conversion tool that becomes more convenient now.
Simply follow some simple steps to Export Excel to PDF :
Install & Run Excel to PDF Converter
ADD XlS or XlSX File(s)or ADD Folder
Click Convert button to convert Excel files.
Hence you can execute the Excel to PDF export method  effectively with the help of advanced Export Excel to PDF Converter software that can easily allows you to move / transfer all MS Excel file together with all attachments as numbers, breaks, graphics, charts, hyperlinks, comments, font embedding, etc from Excel to PDF in very simple and trouble-free way.
Useful Features Offered by Export Excel to PDF Utility
• Powerful Graphical User Interface (GUI).
• Preserves on-disk folder structure.
• Group Conversion of Excel files to PDF is allowed (Batch Convert).
• Guides step-by-step during conversion process.
• Supports fully compatibility with all version of Windows.
So you can buy our perfect and effortless
Excel to PDF Converter
software, the licensed version of the software has full functionality and features to export Excel to PDF files. You can also download our demo version for more satisfaction, using the demo you can only export 1 excel file to pdf format at single time.