EML to PST Converter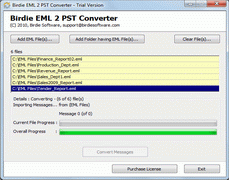 EML to PST Converter is fast and hassle free email conversion program that will help you to convert EML to Outlook (personal storage folder) and easily guides you to switch all email files of renowned email client applications to Microsoft Outlook PST format. The easy & simple method to convert eml files & emlx files to Outlook format.
Small Introduction :
In today's business world as well as in our personal life e-mail (Electronic mail) now became a commonly or usually method of communication. Each new performer on today's market try to cover up what its opponents failed to address in their products of sending emails, creating and receiving emails as normal, quick, safe and secure as at all probable, a huge number of email client applications are available in worlds market that provides  each and every facility which you need to communicate with world of today : from receiving emails to sending emails, in this way with this electronic mails formula now it's very easy to communicate with friends, relatives, office colleagues, class mates and many more situated across the world.

In spite of many choices available to users today, the market is obviously dominated by Microsoft software components –Live Mail, Vista Mail, Outlook Express specially MS Outlook, which is being the mostly used email client application, part of Microsoft Office. Outlook is with no hesitation one of the best, well liked and adaptable email client. The potential of Microsoft Outlook application cover extreme beyond exchanging emails., it includes a calendar, contact manager, journals, calendars, note taking, task manager and also web browsing. This really helps you to manage your daily works schedule, tasks and storing vast details about thousands and even more than contacts.
Common Problem Of Users :
Microsoft launches its new and updated OS flavors; one of the latest versions is Windows 7, it's the updated version of Windows Vista. In Windows 7 there is a default email client: known as Windows Live Mail and its saves its email messages in EML file formats and its being good enough if Outlook also supports the same file format for saving the mail message but unluckily Microsoft Outlook doesn't support the email format and due to this which creates several inconveniences for billions of users who ultimately end up having to convert EML to Microsoft Outlook :
Let's take a look of some common issues, which users are facing today;
• Users upgrading from the older version of Windows OS to the latest release, which is Windows 7 and in this version Live Mail is the default email client installed. If you are not satisfied with the latest email client functionality as you are habituated to use Outlook because MS Outlook gives you more flexibility to send and receive emails, etc. but email files could not be transferred from live mail to Outlook in an easy mode without the help of EML to PST converter. (switch emails from Windows 7 mail to Outlook).
• If you make a decision to migrate from Outlook Express to the mostly used MS Outlook, your email messages will not moved automatically (you will absolutely required EML to PST conversion tool).
• If you decided to stop using other email clients like; Vista Mail, Thunderbird, Entourage, Apple Mail, Eudora, IncrediMail, and many more, you still not capable to move your emails to Microsoft Outlook due the differences in email saving format and will have to deal with this trouble is some way (convert eml to pst, import eml to Outlook – as you can also say import eml to pst).
A large number of EML to PST converter solution is available in the market, which may help you little bit, as it's not essentially keep your email folder structure or may not transfer your email files attachments, other may contain encoding inconsistency, size limitations problem and more.
So is this a really impossible situation? Can something be done to make possible the conversion of emails (EML to Outlook PST) from other email clients to Outlook? Is there any easy approach to get rid from the present email application, import EML to Outlook and effortlessly switch over to Microsoft Outlook application?
Our Simple Solution :
The answer of the above questions is YES ! . EML to PST Converter is the perfect model for migrating email (*.EML files) of various e-mail clients to MS Outlook. EML to PST conversion program is tremendously flexible, fast, safe & secure way to convert EML to Outlook. Its a real time saver software product, which helps you to convert huge amount of email files by protecting any data loss of email files. This EML to PST converter gives you the chance to transfer any particular EML files or convert large-scale EML files in other words conversion of multiple emails is possible with this tool. Software not only supports to convert EML files as long as it's also supports EMLX (Apple's Mac OS X Mail application individual e-mail message format) files format to Outlook in simple method. So you can called it one stop solution to switch EML & EMLX files to Outlook.
Prominent Attributes of Our Product :
Developed with highly intuitive graphical interface.
Safe & secure solution for eml2pst migration
Import emails into Microsoft Outlook (import EML to PST)
A opportunity to preserve the folder structure while importing eml files into Outlook
Support of the Mac OS X .EMLX file format (EMLX to PST converter)
Convert eml to Outlook, convert emlx files to Outlook
Import eml to Outlook .pst personal storage files
A possibility to create .pst files over 4 GB in size
Convert EML to Unicode PST files
Supports Batch Conversion of .eml &amp .emlx files (import eml to Outlook, import emlx to Outlook)
Supports to install in Windows 8, Windows 7 (32/64 bit), Vista, WinXP, 2003, 2002 and other.
Understand the Conversion by Watching following Video Screen
Many users have already used EML to PST Converter and they were astonished by the functionality & flexibility of eml2pst tool. If you are in search of a trustworthy EML to PST conversion program, then you are just in a right place and knocked the correct door !
EML to PST Converter tool is now available with Command Line support!
EML to PST Converter easily convert .EML files of Windows Live Mail, Windows Mail, Outlook Express, etc

*Note - You can run this version with Windows Start/Run dialog
Highly Recommended :
Before purchase, test the DEMO edition of EML2PST converter, It will help you to convert 10 emails (.EML & .EMLX) files to Microsoft Outlook. To get the unlimited eml2pst conversion and emlx2pst conversion process done order EML to PST Converter now.