Q:

Does the software convert emails having attachments?
A:Yes, it does convert emails having attachments. Here you will be having 2 options of saving attachments, either you can save attachment embedded with PDF or you can have them save in a separate folder.
Q:

Does the software also convert the attachment files into PDF?
A: No, the attachments will remain in the same format they were originally in, only the emails file will be converted into PDF format.
Example: If you have a .doc file or excel file attached within the EML file then after conversion also you will view them as .doc or excel.
Q:

I am not able to locate the embedded attachment within PDF file?
A: NIf you have selected the option to save attachments & embed in PDF file then software will keep the attachments embedded. To locate the attachments please see the image below: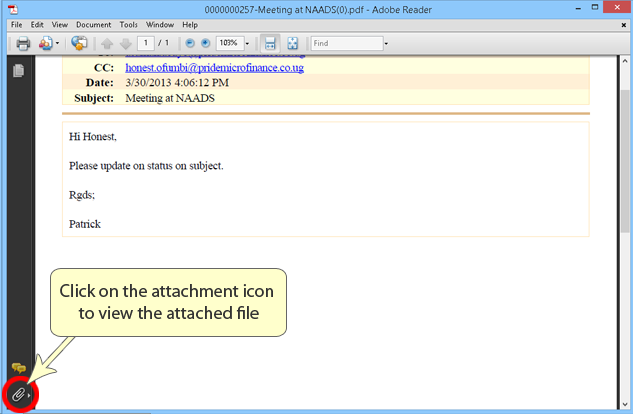 Q:

Is Windows 10 supported by the software?
A: Yes, you can convert eml to pdf easily on any windows version as it supports the entire Windows OS (98, 97, NT, ME, XP, Vista, 7, 8, 8.1) range without any issue, Windows 10 is no exception.
Q:

Can I read the converted PDF in Adobe Reader 11.0?
A: Yes, you can very easily read the converted file in Adobe Reader 11.0., You just need to have 11.0 or any below version of Adobe Reader install in the system.