EML to PDF Converter
Save multiple emails into Adobe PDF document format along with Attachments
Convert Multiple emails

store in 1 folder in one go
Dual Conversion options:

Single Mode & Batch Mode

10 different file Naming Options

to save emails

Save attachments embedding in PDF

or in a separate folder
Convert and save each emails into a separate PDF file

Adobe PDF Reader 11.0 & below should be installed

Runs on all Windows OS Versions–

Windows 10, 8.1, 8 included

Work as a

Forensic/investigation purpose

Convert mails from multiple emails client into any adobe PDF file version.
FREE Download Now
Version: 6.9 Purchase Online Now
Price: $49
Convert EML to PDF – With Top-Feature
Convert Multiple emails to PDF

This tool supports multiple emails conversion into Adobe document. You can convert several emails at once, using "Add folder having EML file(s)" option else, you can add single file at a time with option to "Add EML file(s)".
Offers Several File Naming Options

To save as PDF, the software provides you multiple file naming conventions. By default it saves emails in subject + date order, but if you like you can select the other options like: from + subject + date, date + from subject, date subject from, date, from + date etc.
Dual Option to Save Attachments
While converting EML to Adobe Document, the tool also saves the attachments. For saving attachment you get 2 choices; "Save Attachments & Embed in PDF File" or "Save Attachments in Separate Folder", choose whichever option suits you.
Separate PDF for individual emails

The software will create a separate PDF file for each & every emails file that is converted. The file will retain the complete details of files and keep the attachments intact within the document even after the conversion.
All Email Client supported

Conversion is possible from any EML supportive email client like Windows Live Mail, Outlook Express, Windows Mail, Thunderbird, Berkeley, Mac Mail, Entourage, Chaos Intellect, EarthLink, etc to PDF.
Supports all Adobe Reader versions

You must have Adobe PDF Reader install in order to create and view the PDF files. Also, you must have Adobe Reader 11.0 or below version installed to perform conversion as this software supports all of them.
Metadata information is preserved

Emails metadata information like to, cc, bcc, from, date & time stamp, subject line, etc all will be preserved by the software.
Retains all the Formatting

All emails formatting – RTF or HTML will be retain by the tool. You can view the emails with the exact font, links, color, etc in PDF.
Windows ready application

This tool could be used in any Windows OS machine. It is fully compatible with Windows 8.1, 8 & all other below versions of Microsoft Windows OS.
Screenshot view of EML to PDF Conversion process
In 3 easy to understand screenshots the complete process of the software is been explained. Not only that you can also see how the product looks like during the different stages Conversion. See Detailed Working Process
Convert EML to PDF FREE Trial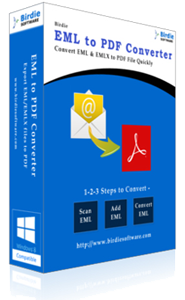 Download Trial
Start Downloading Now
Version: 6.9v
Product Version - 6.9v
File Size - 9.55 MB
Limitation - Remember with demo you will only be able to convert 1 EML file to PDF format, for converting more you just have to upgrade to the License version of the software.
FAQs - Most Asked Questions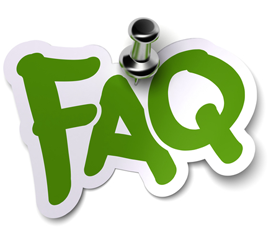 Does the software convert Attachments of the emails?
Yes, it does convert emails having attachments. You will get 2 options to save the attachment files, either you can save attachment embed with PDF or you can have them save in a separate folder.
Does the software also convert the attachment files into PDF?
No, the attachments will remain in the same format they were originally in, only the emails file will be converted into PDF format.
Example: If you have a .doc file or excel file attached within the EML file then after conversion also you will view them as .doc or excel.
I am not able to locate the embedded attachment within PDF file?
If you have selected the option to save attachments & embed in PDF file then software will keep the attachments embedded. To locate the attachments please see the image below: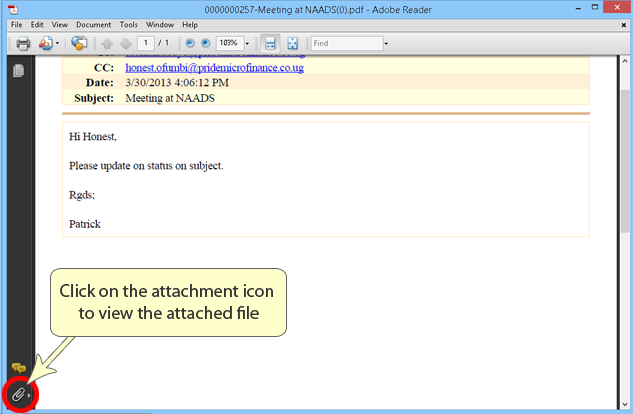 Is Windows 8.1 supported by the software?
This software supports the entire Windows OS (98, 97, NT, ME, XP, Vista, 7, 8) range without any issue, Windows 8.1 is no exception.
Can I read the converted PDF in Adobe Reader 11.0?
Yes, you can very easily read the converted file in Adobe Reader 11.0., You just need to have 11.0 or any below version of Adobe Reader install in the system.
Will I be able to convert EMLX files of Mac OS X?
Yes, you can convert MAC OS X emlx files to PDF, but for that you will first have to transfer the emlx files from Mac Machine to a Windows Machine than you can perform the conversion.
Client Testimonials
"I often have the need to get my emails in PDF, earlier I use to write down or copy paste the whole content.
Cole Katzell, Russia
"With EML to PDF Converter Tool i only have to click a few times to get emails from Live Mail to PDF. Thanks to this amazing tool."
Jasper Harris, Manhattan
Now I do not have to waste much in creating PDF file, now I have this wonderful tool which does the job for me.
Mathew Los Angeles
Best thing about this software is that it not only converts the email it also converts the attachments along the emails.
William Richer Sydney