EML to HTML Converter ~ One-Click Email Conversion Tool
Need to Convert EML to HTML file?
Stay One Step Ahead
"Download Free EML to HTML Converter Now"
EML to HTML Converter is the faultless yet affordable solution that is being utilized to convert EML files to HTML file extension in unfailing way, so that you can view, read, access or use your previous EML messages in .HTML format.
"EML files are the standard email message format that are being created & supported by many email clients for instance – Outlook Express, Windows Mail, Mozilla Thunderbird, Windows Live Mail and so on, all this email clients saves its messages in .eml file format."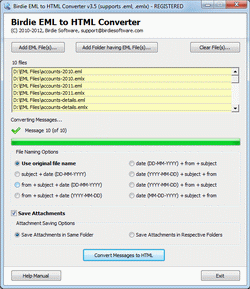 This EML to HTML Converter tool allows you to archive your email (.eml) messages in HTML format without changing the original e-mail formatting that means you can easily access or read your converted HTML format with actual existing data of your emails.
Take Test Drive Before You Place the Order !
EML to HTML email conversion tool is also available in DEMO edition that guides you properly to know the software working procedure, it will convert only single EML file to convert unlimited emails get the Fully-Registered version. Once you have judged the trial version place you're for the Order Full Licensed edition of our tool.

Click here - Pay Only 49 USD to Get the Registered License Now
Software is Built-Up with two EML to HTML Conversion modes –
1. Single Mode of Conversion – You can perform the EML to HTML Conversion procedure with single email file or by choosing emails one by one.
For this Click on – Add EML File(s) option.
2. Multiple Mode of Conversion – Mass conversion of EML to HTML files is possible in one go by choosing this mode, that means thousands of email .eml files can be now converted into .html format in just one-click.
For this Click on – Add Folder having EML File(s) option.
Feature Set of EML to HTML Converter Tool –
• Ease of Use
One-Click email conversion utility, GUI of this software developed with easy-to-use interface that easily convert EML to HTML in trouble-free manner.
• Includes Meta Data
Software retains total email items all through the conversion process that includes; Header items (to, from, subject, date / time, etc.)
• Save Embedded Attachment Files
EML to HTML program includes saving attachment options that allow you to convert EML to HTML with  all attachments in it. See Below –
a. Save Attachments in Same Folder – By choosing this option you can save email eml file attachments in the same folder.
b. Save Attachments in Respective Folders – You can save your eml email attachments in respective folders as well.
• Supports Total EML E-mail Clients
Using this software you are allowed to convert EML to HTML file from entire .eml based email clients like ; OE Mail, Live Mail, Thunderbird, etc.
• Add-on Benefits
EML to HTML Converter program easily converts EML & EMLX to HTML format without any loss of data (.emlx file are the single email format of any Mac OS X email clients).
• Custom Naming Options
Save your converted HTML files using altered file naming options that ease your work without any obstacle. Some of the Naming Options are ;
a. Date (Date-Month-Year) + From + Subject
b. Subject + Date (Date-Month-Year)
c. From + Subject + Date (Year-Month-Date)
• Compatible with Windows OS Flavors
You can run this tool on any Windows versions weather it is old or new like; Windows 8, Windows 7 or Windows XP. Its an completely Windows based tool that means you can run it on any OS of Microsoft Windows.
Hence, it is being proven that EML to HTML Converter software is the perfect utility that permits to convert EML to HTML or EMLX to HTML all along with entire email's data in no time.
More than millions of users have already trusted on all the products. Now we came with new Birdie EML to HTML Converter to convert email EML files into HTML, so try it now to convert your .eml or .emlx files in .html file extension.