Export Emails from DreamMail to MS Outlook
Convert Multiple DreamMail emails into PST format with accurate email rich text formatting
and attached files and view it into any Microsoft Outlook edition.
FREE Download Now
Version: 6.3 Purchase Online Now
Price: $39
Using DreamMail emails application, but now want to continue your Outlook account and want your emails of DreamMail in your Outlook account?
Don't worry we have the solution of your problem
What is DreamMail? DreamMail is a emails application with the feature of normal send and receiving emails and send messages, etc. But DreamMail is not useful and popular like Microsoft Outlook and DreamMail has limited features compare to Microsoft Outlook. So if you are interested in converting your emails of DreamMail into PST format, then you can go with the DreamMail to PST Converter software which you can download from here.
To perform then DreamMail to Outlook Conversion, first you have to Save DreamMail emails as EML File format.
Follow the Mention Steps and Save Emails of DreamMail as .eml
Step1 – Open you DreamMail application Account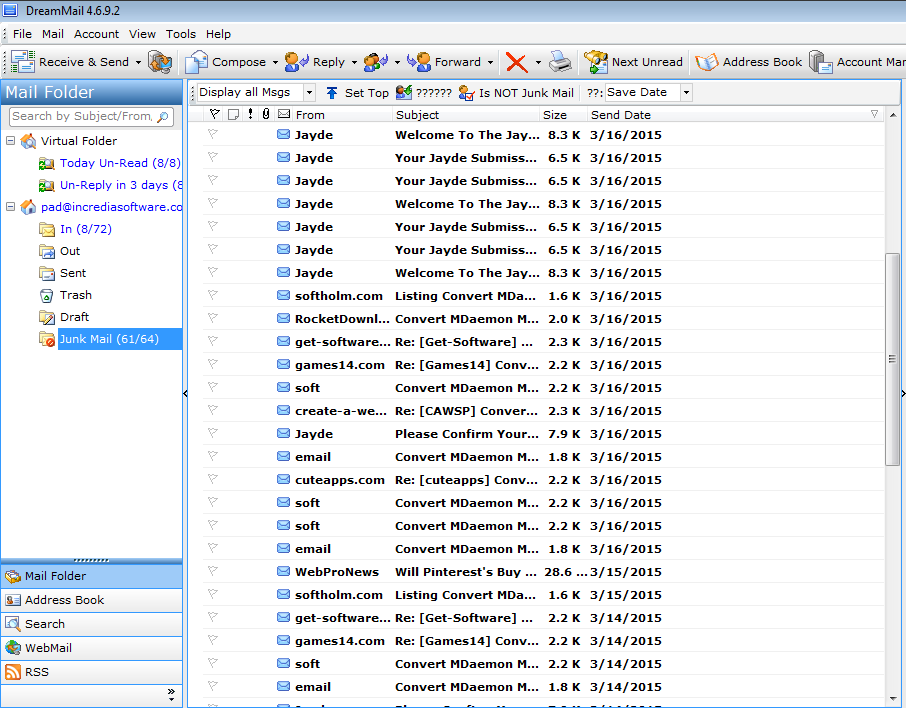 Step 2 – Click on Inbox >> click on email and Press ctrl + A (select all emails by ctrl + A)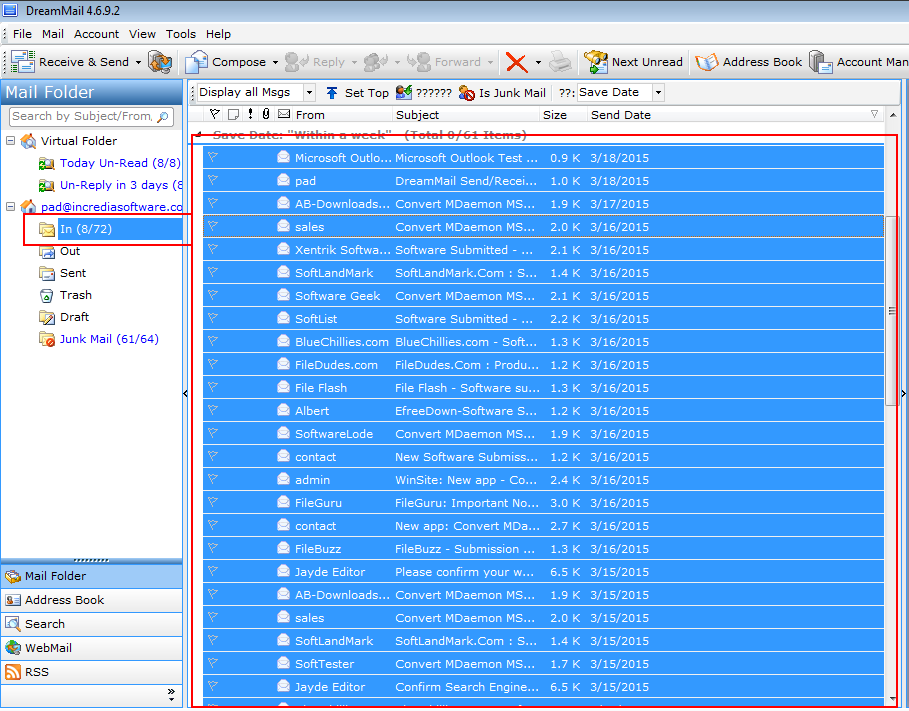 Step 3 – Go to menu bar >> File option >> Export option >> Save Mail as EML File (*.eml).....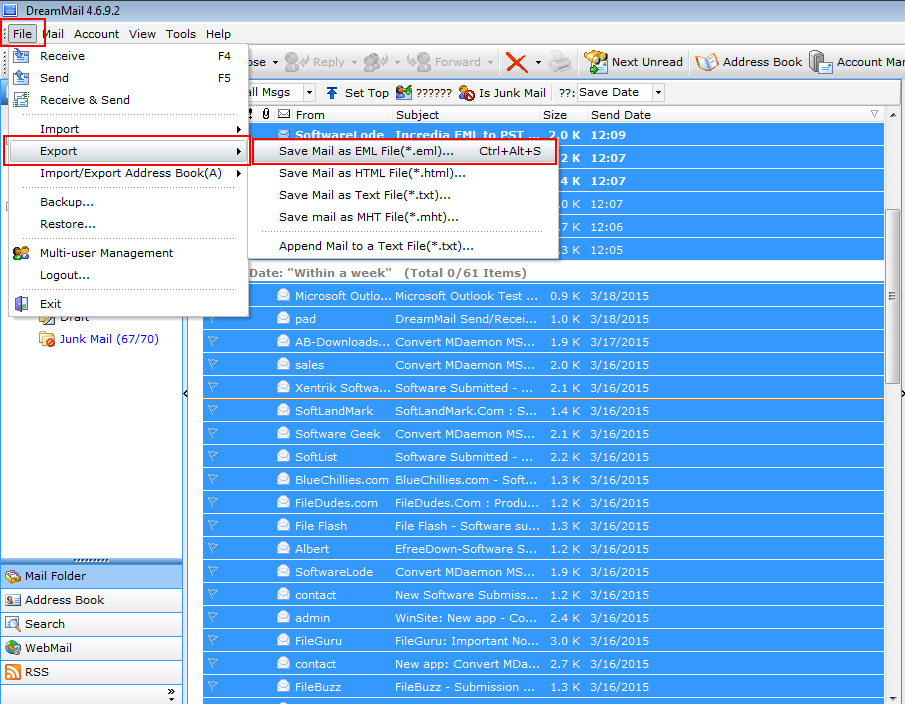 Step 4 – Browse folder will appear >> Browse the location to save the converted file >> OK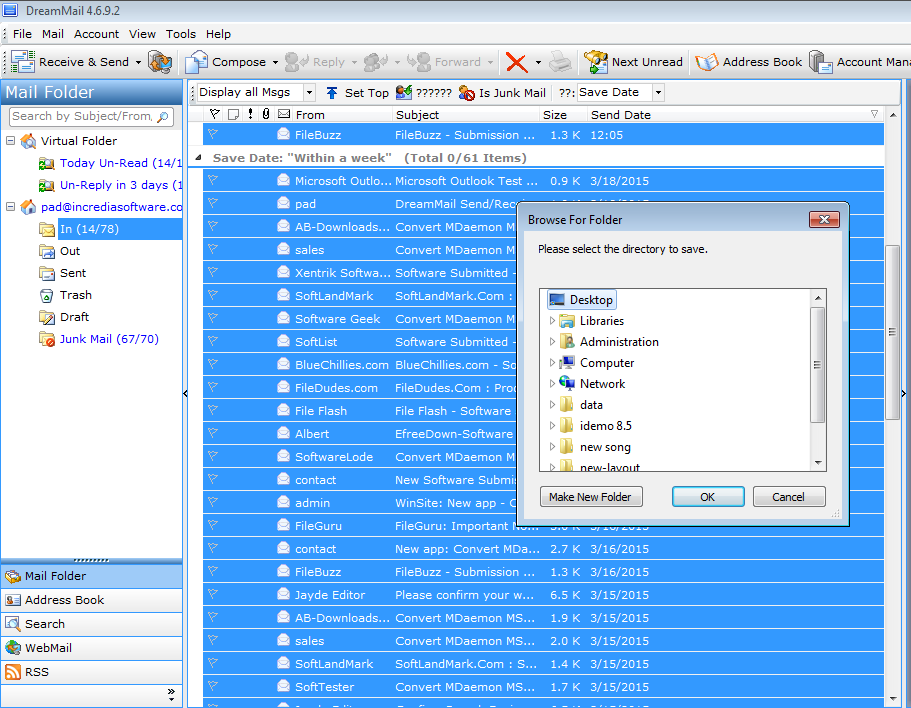 If you want to save all emails in one folder the click on Make folder option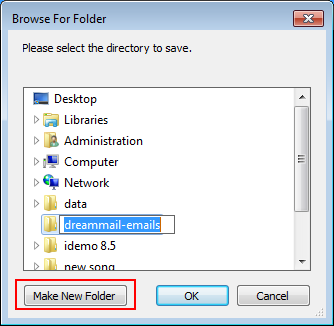 After exporting all emails in .eml format, DreamMail give the hint that exporting completed successfully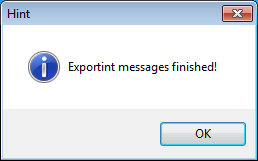 Now Use DreamMail to PST Converter software which is most reliable and affordable tool to convert EML emails into PST format. Software converts thousands and more than thousands of emails at a one round.
1 - How to Use the software and how to convert emails in PST format
2 - Download the software .exe file and install and launch the software
1 - Add DreamMail emails to Software
2 - Click on Conversion button and browse the location to save the converted file
After completing the process of DreamMail emails to PST conversion, next import the converted file into Outlook >> open Outlook >> File >> Open >> Outlook Data File >> Browse the file. Read More.
FREE Download Now
Version: 6.3 Purchase Online Now
Price: $39
Trial version of Software is completely free of cost and allow users to convert first 10 emails. Key license of software has no limitation of file size. Convert any number of files without any problem.
Main Features of Tool

Convert EML emails from DreamMail and other EML supported apps ­
Software supported emails conversion from DreamMail and also from all EML files supported emails clients to Outlook like Windows Live Mail, SeaMonkey, eM Client, Outlook Express, SpiceBird, the Bat, etc.

Save all RTF formatting and Attached files ­
During the conversion process software will save all the emails RTF formatting (header details, sources formatting, hyperlinks, images, etc ) and all the attached files and data. Software keep attachments into their original format.

Multiple File Selecting Option ­
Software has the multiple files conversion option so that users can convert the whole folder having DreamMail emails in PST. Batch file conversion mode will convert the unlimited emails at a one round.

Supports all the Microsoft Outlook versions ­
Software create new UNICODE PST which is importable into all MS Outlook version upto MS Outlook 2003. Software supports all MS Outlook even newer Outlook editions.
Frequently Asked Questions asked by Users
How can I export emails from DreamMail?
Open DreamMail >> Select all with the method emails by Ctrl A >> then go to file option >> Export option >> Click on Save mail as EML file and browse the location to save the exported file.
How to open converted PST file in Outlook?
Go to Outlook >> File >> Open >> Outlook Data file >> Browse the file. But make sure that Outlook is install on your system and account configuration is must to open and view the PST file otherwise you will get the Outlook session error message.
Which Outlook edition is supported by software?
Software support almost all MS Outlook version to import the converted PST file above Outlook 2003. After conversion software creates UNICODE Outlook PST File which is easily importable by Outlook 2003 and above versions.