Now Delete Password from PDF Instantly!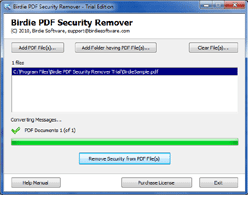 Most of users of Portable Document Format usually protect their PDF files by two types of security/password. Owner password and User password, users and owners create restriction due to unnecessary interference of unessential users. But when users save PDF files with any password then they are unable for functioning like editing, copying, and printing etc.
After that those user need solutions to remove restrictions from PDF documents. Therefore PDF Security Remover comes as a third party solution by which user of PDF can easily delete protection of PDF files in batch mode.
PDF Security Remover has made to fulfill the purpose of delete password from PDF utility. After delete restriction from PDF, you can easily modify, copy, edit print & graphics from PDF files. But if user of PDF document is protected with user password then tool does not allow the user to eliminate user's password because it's only permit to remove owner password from PDF files. Advance feature of this software is batch/bulk/group/mass mode conversion. Tool removes password from PDF utility in batch mode without harming any single details of PDF file.
If your are non technical user then there is no need to worry this software is configured with easy to use GUI that will explain all steps to remove password from PDF file with the help of graphical representation for the process. Take a look on following image:
Two Different Ways to Delete Password from PDF:
1. Single Mode: - Click on "Add PDF File(s)" tab after that select those PDF files one by one which you want to delete security from PDF files.

2. Batch Mode: - Click on "Add Folder having PDF File(s)" tab to select folder having multiple PDF files from which you want to delete password restrictions.
Loaded Features of The Software to Delete Password-
• PDF Security Remover software is a pleasant tool to delete password from PDF files.
• Tool swiftly removes owner securities from PDF files in batch at the same time.
• Program allows removing password from PDF without installation of Adobe Acrobat in client PC.
• Software runs with every version of Acrobat up to 9, even with 128-bit or 256-bit encryption.
• Compatible with all newest Windows versions like: Windows ME, NT, XP, 98, 2000, 2003, Vista, 7 systems
User can also attempt free trial version of this tool before paying licensed version of software. It's free testing edition after that place order for license version of PDF Security Remover software to remove/ delete security from PDF in bulk mode.