How to Copy Content from protected PDF?
Have you been receiving PDF files from which you cannot copy any content? The situation given below may sound familiar to you.
I often receive PDF file in which content copying is restricted, I cannot copy a single line from it & paste it in some other document.The manual procedure for removing the restriction is quite lengthy & also I am not aware of the password being applied in it. Because of this often my work gets delayed; suggest some easier & quicker way for dealing with it.
Content copying restrictions in PDF files means it has owner password protection, unlike Open Password Protection, you can open, read & view a PDF file which has owner password, but will not be allowed to copy, edit or print the file.
The manual procedure for removing owner password is lengthy, plus the method varies in different version of Adobe Acrobat. Also an important requirement for applying manual process is that you must be aware of the password used for protecting owner's rights. Plus if there is only 1 file then somehow you can manage, but what if the number of files are greater?
To deal with this there is another way for removing content copying restriction from PDF i.e. you can do the job with help of some third-party tool available in online market. But before that you must make sure that your PDF file is actually restricted with owner password protection.
FREE Download Now
Version: 3.0v Purchase Now
Price: $19
How to check if PDF file has Owner Password Protection?
To verify if there is owner password applied to a PDF file follow the instruction:
Step 1 - Open a PDF file from which you cannot copy content
(Simply open required .pdf document)
Step 2 - Check if there is lock icon in the PDF, as shows in the below image
(You will have to check its secured or not.)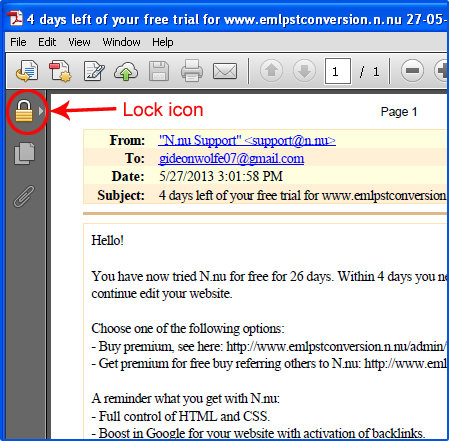 Step 3 - If yes, it means the file is protected, to verify further; click on the Icon & click on Permission Details, as shown in the image
(Check for the permission details.)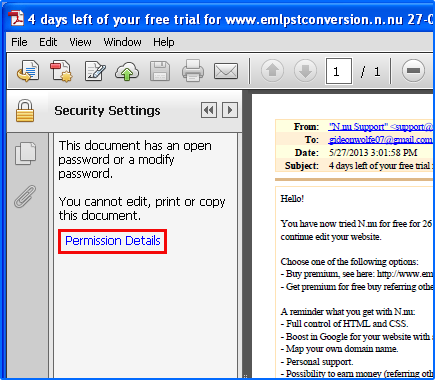 Step 4 - Then the Document properties windows will open, in the Document Restriction summary section you can check which functions are not allowed by the document, like below image.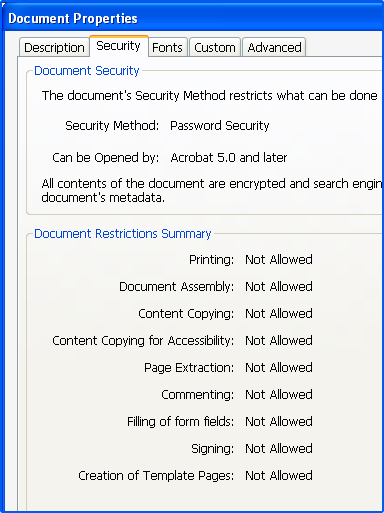 Once you have verified that its protected or not you can move further & remove restriction from PDF file using PDF Security Remover.
This tool gives guaranteed method for removing owner password protection from PDF document after which you can easily copy content or text from PDF files without an issue. It will allow you to perform all restricted tasks.
Steps in PDF Security Remover
Save all the restricted PDF files in 1 folder. No matter what the count is and what the size is.
Select PDF files using the available Add buttons, you can select files one by one or add folder too.
Press Remove Security from PDF files option and then browse and select a location to save the unrestricted PDF files you will obtain after removing security.
In seconds the process will be complete & you will be able to copy content from protected PDF
Why PDF Security Remover is better than manual process?
Batch process is available, you can remove restriction from multiple PDF files at once, and this will save your time. You will not have to remove protection one by one. Select files as many as you want to.
You can choose where you want to save the unrestricted files once the copying restriction is removed from them. It's extra benefit for those you want to forward that protected file again to someone else. It will not distrurb the already saved files. Just select the different location to save the replica files which are now unrestricted.
Keeps the original or source file as it was & restricted. Replicate the files & remove restriction then save it.
Does not make any change into the original data or formatting of the file. Everything is kept intact. There will no change in any format or there will be no loss of data.
To be sure you have an another option too, simply try our free demo version which will allow you to unrestricted the single protected file only for more and a lot number of files you can go for paid version.