Export & Save EMLX to PST format
Looking for some solution to convert emails from Mac OS X into PST format without any data loss? If yes, then we will help you to know how you can perform this task without much complication. As we know Apple Mail Email file save its single email messages in EMLX file format while Windows MS Outlook saves its data in PST file format.
EMLX to PST Conversion – When & Why?
1 - Want to change the machine from Apple Mac OS X to Windows 10?
2 - Want to switch emails from Apple Mac to MS Outlook (Windows are installed with MS Outlook as the default email client)?
3 - Have bunch of orphan EMLX files and want to use them into your Outlook account.
Other situations for Conversion:
1 - You find EMLX files in your computer and don't know what program should open it.
2 - You have received these files via email but you're not sure how to use it.
3 - You tried to open the file but Windows told you that it could not open it.
There are two possible ways to convert these files to another file type like PST:
— Open the files in default applications and save the open file in any other file format.
— Use a Email Migration tool which can directly convert the file into MS Outlook format.
FREE Download Now
Version: 6.9v Purchase Online Now
Price: $39
First option is preferable because it's both easier and simple, also will probably result in a more accurate file conversion but if you don't have a program which opens emails or can say which supports those files, a third-party file conversion tool (the second option) could be very useful in that case. In which you will not have to do much efforts. Software tool will automatically convert all .emlx file in Outlook supported PST file.
"Unfortunately MS Outlook does not directly open the EMLX files so you need to convert files first into "PST" format first."
Go for the simple Steps to convert EMLX to PST:
1 - Move email messages from Apple Machine into a separate folder by drag and drop method. Default location of .emlx file in Apple Machine
2 - NOW move this folder of EMLX files into a Windows machine via CD, Pen drive or any other media as PST file is a Windows based application supports to work with Windows MS Outlook
3 - Finally you can install and run the tool to import all emails of Mac OS X Mail to PST format.

will work perfectly to convert multiple files along with following advantages and features:
1 - Batch Conversion Process of software allows you to convert big bundles of messages into Outlook format. There is no limitaion of file size supporting. Browse n number of emlx files fearlessly. You can select single file or file one by one too. Also can upload folder at a time
2 - Keep attention on data safety while moving messages into Outlook format. There will be no loss of data due to software or during the conversion process.
3 - You can run this conversion tool on any version of Microsoft Outlook like; 2016, 2013, 2010, 2007, 2003 and the older versions. It supports all Outlook versions
4 - Convert all emails along with each and every attachment and all the formatting of the emails will not be disturbed at all. It will keep the folder management or sequence as it is.
5 - As discussed above tool will run frequently on Windows OS and on all the versions.



Steps to open .pst files to MS Outlook:

(Follow the steps to import converted pst file using software in Outlook)

1 - Launch the Outlook email client

2 - Click on the File menu >> Open & Export >> Open Data File

In Outlook 2010 & below version Click on Data File Management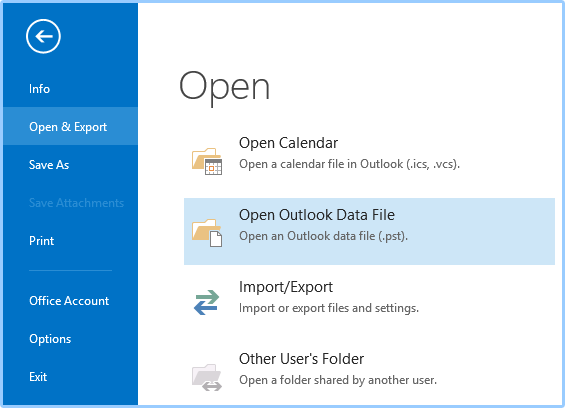 Locate & select the converted .pst & click on open. It will import converted PST file to your Outlook. Now you can easily see th emails with all details.
Steps to make it a default PST
1 - Start Outlook
2 - Click on the File menu
In Outlook 2010 & below version Click on Data File Management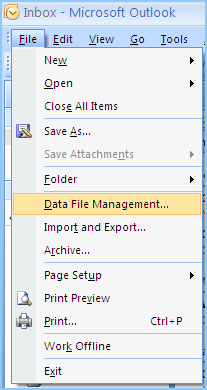 In Outlook 2013 Click on Account Settings >> Account Setting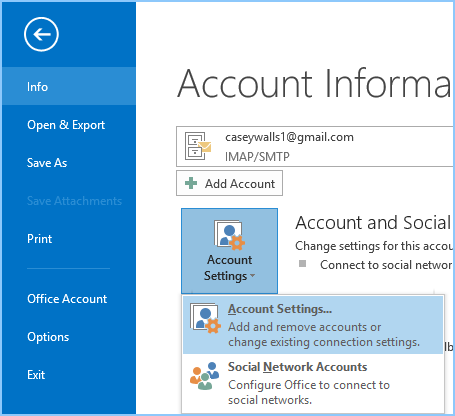 3 - You will get a new Window, there Click on Add
4 - Select the PST you want to make default
5 - And click on Set as Default
Default location of .pst files in Windows machine