Moving From MDaemon to Exchange Server 2010
FREE Download Now
For Windows 10/8.1/8/7/Vista/XP Buy Online at $129.00
Order & get full-featured software
In the article below it is discussed about the query we got few days back about MDaemon Data Migrator and the whole MDaemon Migration Exchange server process. Let us know the exact query first.
One of our client had a query :
Hi, I am working in a Medium size firm but now we are planning to broad our business till now we were using MDaemon as Mailing Server. We were suggested to migrate MDaemon to Exchange 2010 Server. I found your tool while searching solution for the same. Please suggest me I have approx. 400+ users whose data I will have to migrate with exact details whether it is Mails, Contacts, Notes, Events, or Calendar as I can't take risk with such a huge data.
Our technical team worked on this and suggested the best for the customer.
So let's take a look on MDaemon Vs Exchange Server
Both are no doubt good mailing servers and hold their own features at the best. But still when we think about our organization's betterment we always prefer for a trustable product and would believe to go for a brand with unlimited users and positive feedbacks. MS Exchange is also one of them as it is also one of the successful server till now. It has some better features too. MS Exchange provides both email client and webmail service whether for MDaemon you must work with WorldClient which is browser based service but features are very less available with it. Also, if you are a big firm then it is always suggested to go for MS Exchange Server instead of MDaemon as it is good for only small and medium industries.
How our Technical Team helped the customer for Moving from MDaemon to Exchange Server 2010:
We tried to tell features of the tool that what MDaemon to Exchange Migration Tool actually do.
Few Highlighted Features in brief:
Auto-detect Backup folder: MDaemon to Exchange Migration Tool auto-detects the MDaemon backup folder from its location and this feature makes it different from all other tools.
Convert to another 8 Formats: MDaemon Migration Exchange process can be easily carried out by the tool but the tool have also other formats in which you can convert the MDaemon data if you are using any other email client. Convert Mails in different formats.
Whole data conversion: Migrate MDaemon to Exchange 2013, 2010, etc with all data even tool will convert not only Migrate Emails but will also help to migrate MDaemon calendar to Exchange also Address Books etc.
Migrate Multiple Subfolders: If you are only available with multiple backup data then you can gather all the folders in a single folder and can browse to convert the whole data.
Support latest versions: Migrate MDaemon to Exchange 2016, 2013, 2010, etc i.e. all the latest versions. Also supports the latest MDaemon server version data to convert.
No Data Limitation: There is no limitation of the data, it supports to convert MDaemon to Exchange Server with 'n' number of files and that too without loss in data and without disturbing any formatting of the Mails, Contacts or Calendar events etc.
For More Features Click on MDaemon to Exchange Migrator.
Next we explained How MDaemon to Exchange Migration Tool Works:
We suggested them to first try free trial version to experience all the features by their own. Steps to be followed are below::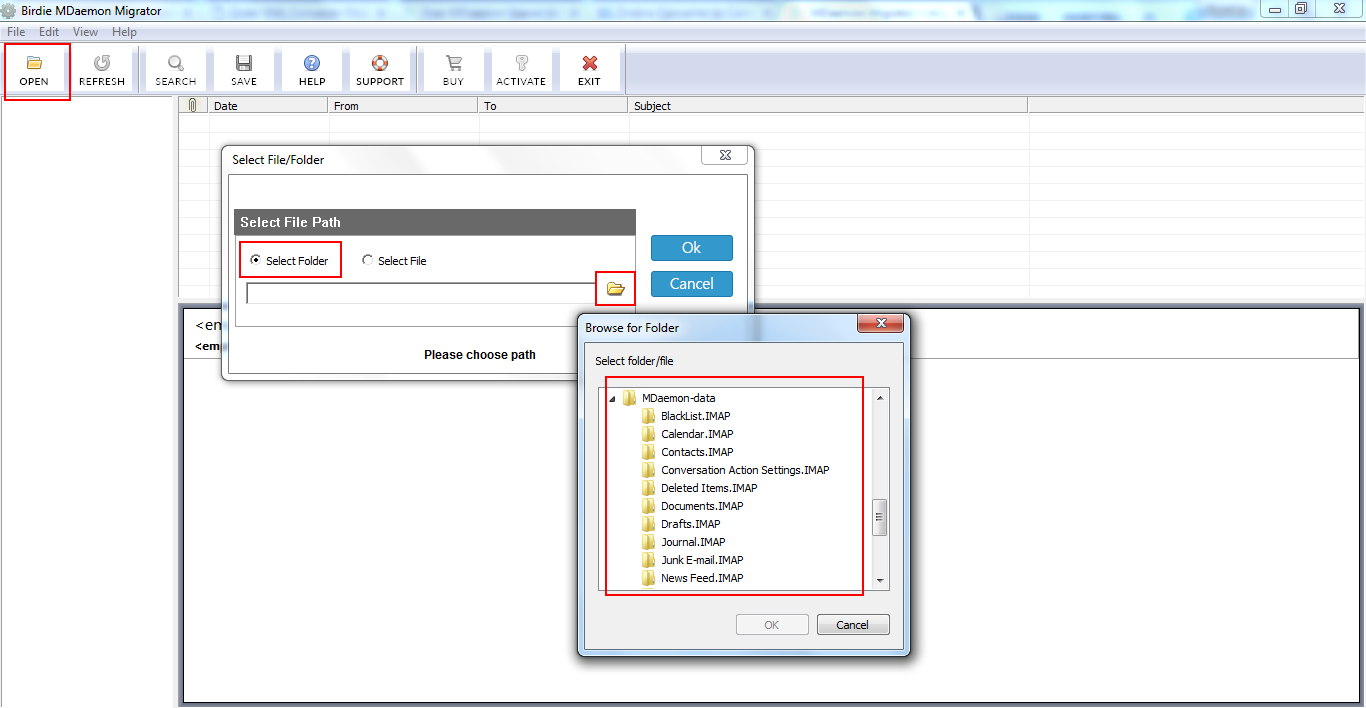 Download the software, Launch MDaemon to Exchange migration Tool
Open MDaemon folder by choosing "Select Folder". Click Ok.
Click on Save, Select Save as PST and Create New PST option to create new file and to update the existing one you can choose Update Default PST option.
Select Create Single Outlook PST File to create single PST for all the data and if want separated PST for all the folder then go uncheck the option.
Browse the File saving location and Click Ok.
Conversion will be done in few minutes.
Working Video:
Following Working Video will showing the migration process of MDaemon Files to Exchange became a helping aid for them, as they could complete the whole conversion process effortlessly.
Import MDaemon to Exchange Server:
MDaemon to Exchange Migration process will be completed by using appropriate cmdlet and by effectively imported all the PST files (one PST at a time) from migration machine to user mailboxes at Exchange server. Use the following command for instance:
Cmdlet - New-MailboxImportRequest –Mailbox Johan –FilePath \ mymachine \ PST-Files \ Johan.pst

Finally, MDaemon to Exchange 2010 Server migration process has been completed with ease. If you are also looking for the same solution then you can try its free version.