Will WhatsApp be Ban in India?
Lets have a look why WhatsApp can be banned in India?
Almost everyone who are using internet on their mobile networks are well aware of WhatsApp and time to time increasing its popularity too. You can chat, call, share data like images, voice and videos. During the time it has gained so much of popularity and keeps on working to improve its features. WhatsApp was initially founded by Jan Koum & Brian Acton and in 2009 and then in 2014 they announced WhatsApp is being acquired by Facebook.
WhatsApp has always been in news as number of users are increasing day by day and so may its usage. It has been always criticized by security rules followed by it.
Recently, WhatsApp has added new end to end security to it, if you are WhatsApp user then it's possible you have seen a message showing in the image below with all the contacts, but it is must to upgrade your app for that.
Whatever message/voice/call you will send to your contact friend will be protected with end to end encryption.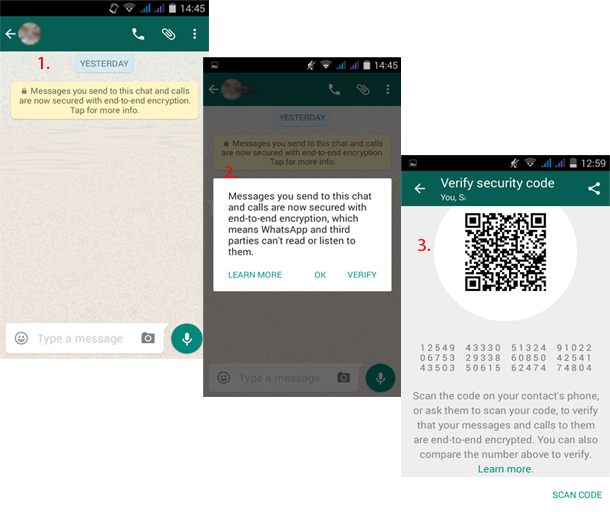 What End to End Encryption is?
It is basically conversion of the data for the security purpose so that third party in between can't interrupt or corrupt or hack the send data.  So, to protect or secure the digital data encryption is the solution. Encrypted data is not understood by any of the person even cyber-criminals, hackers, telecoms and Internet Service providers or governments except that of authorized party.
Why WhatsApp can be banned in India?
As 40-bit encryption system used by WhatsApp earlier is a much lower standard. But now after new changes it is considered that WhatsApp doesn't even hold the decryption key for removal of the security with the relevant authority, government afraid that how will they be able to read the messages or call from WhatsApp. As per the government rules it illegal and it can increase the cases of forgery or criminal activities. It can be useful for users but according to gov. it's just not lie in their rules as WhatsApp is using QR Code or a 60-digit number and encryption is 256-bit strong as reported by a famous news site.
Some of the updates followed by WhatsApp which made a big news and hustle in market:
When WhatsApp was sold to Facebook in US$19 billion.
Through a web client WhatsApp was officially made available for Personal Computers.
Off Last Seen to everybody.
Using settings, you can tight your privacy of status and display pic (shown to only saved contacts of your phone).
Star your messages to remember, archive to hide, email your chat etc.
Delivered status, Read Status and then the exact time of delivered and read status of messages send (hold the send message >> click icon  and all the information will be shown.)
Encryption method used.
Lets see what will be the decision is and what a big news will WhatsApp come up with.