Transfer Outlook Contacts to Smartphone
We are here about to explain how to import contacts from outlook and save Outlook contacts to smartphone say android, tablets etc. You must have to follow the steps below:
Export Outlook contacts
Import those contacts to Gmail account
Sync your phone to view contacts
How to Export contacts of Outlook:
Open Outlook.
Go to File >> Options >> Advanced >> Click Export
Select Export a File option from the Popped up Window, Click Next.
Select CSVe. Comma Separated Values, Click Next.
Select Contacts from the list, Click Next.
Check Export "Contacts" from folder Contacts, Click Finish.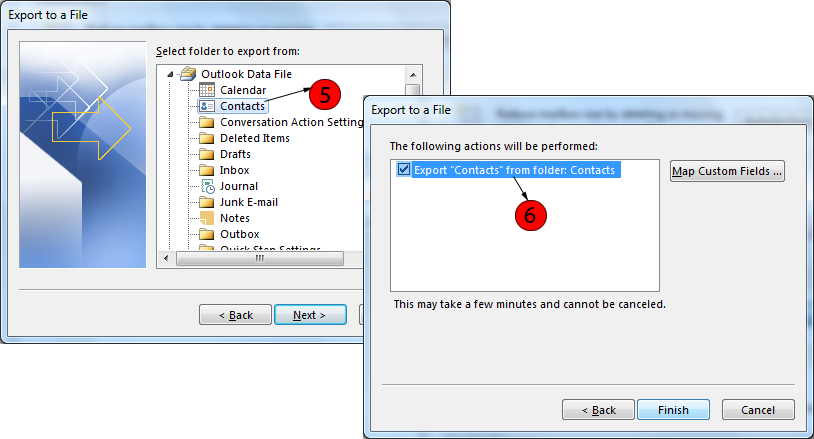 Now browse the location you want to save file and download the CSV of contacts.
Next Step is to Import downloaded CSV to your Gmail account which is configured in your smartphone to sync Outlook contacts to Smartphone.
Import Outlook Contacts to Gmail Account:
Go to Mail Option >> Click Contacts
Select Import option from the popped up Window >> Click Go to Old Contacts.
Go to Import Contacts from the next popped up Window >> Choose File and Click
Then synchronize these Outlook contacts to smartphone. If you have already activated the automatic synchronize option, it will auto-sync the contacts of the gmail account which you have recently uploaded from Outlook. If not then use following steps.
How to sync Gmail Contacts to Smartphone:
Open up Contacts >> Click the menu button
Tap Accounts
Tap your Google account
Click the menu button
Tap Sync Now
By following the above steps can lead to some extra efforts. May be you can face a lot problems in between. It needs step by step process exactly. Being a lengthy process, manual process is not so trustful. Also there is no guarantee about the formatting of the contacts. It's not sure that all the images in contacts  will be sync or not.
It's better to go for a third party tool which will less your efforts and help easily to transfer Outlook contacts to Smartphone.
Follow the simple steps:
Go to contacts of Outlook.
Select all Contacts then Drag & Drop them to the desktop to a folder.
Launch the software and add msg files one by one or folder at once.
Choose Location to save vCard files.
Simply save these files in your smartphone.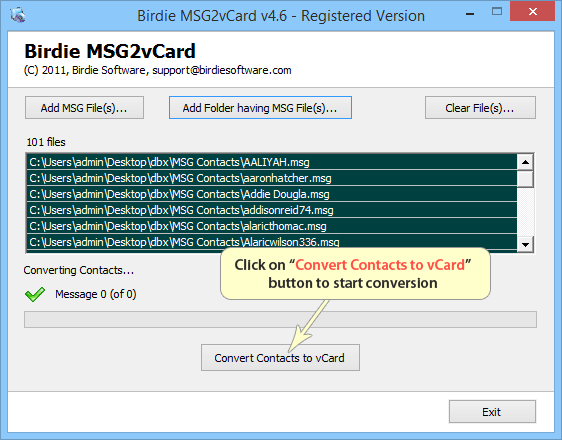 This software will allow to convert MSG files from any Version of Outlook on any Windows OS. Now import Outlook contacts to android using MSG to vCard Converter in some easy and simple steps. Main benefit of this software is that it convert multiple MSG files with all formatting and with proper images. Using option "Add Folder having MSG File(s)" convert multiple MSG files at a time in a single folder.
Download its trial version to ensure whether it will work as per your requirement or not. Then go for Full licensed Version to import outlook contacts to android.
For trial Version    Click Here
For Full Version    Click Here