Roundcube Mails to PDF Converter
Save Roundcube Mails as PDF
Roundcube is another web-based email client, which is in trend because of its features like uses AJAX technology and is IMAP email client. It is available with 60 languages. Multiple threaded message listing, forward messages with attachments, spell checking, searching messages option, template and custom themes option, address book option. It does fully supports HTML and MIME messages.
Now the concern is if you are available with number of mails and if you got some legal mails on your roundcube webmail and now want to save roundcube Mails as PDF, what will you do?
Roundcube allows you to download single mail at a time but when you will download that mail it will save in .eml format and if you want to open & read it further in future then simply save roundcube mails as pdf.
Here we will explain another option where you can download about 75 mails at a time as mentioned above roundcube doesn't provide any other way where you can export mails at a time in bulk.
Export roundcube emails:
Login to cPanel
Choose Roundcube Webmail
Go to settings at the right most corner, in Preferences click on Mailbox View, type 75 in Rows per page and click Save.
Select Inbox Messages with Shift + Down Arrow till end.
Click on Forward and Select Forward as attachment.
 Now Send that mail to your gmail id eg. emailaddress@gmail.com .
Open your mail & download all attachments as .zip
Go to saving location extract folder.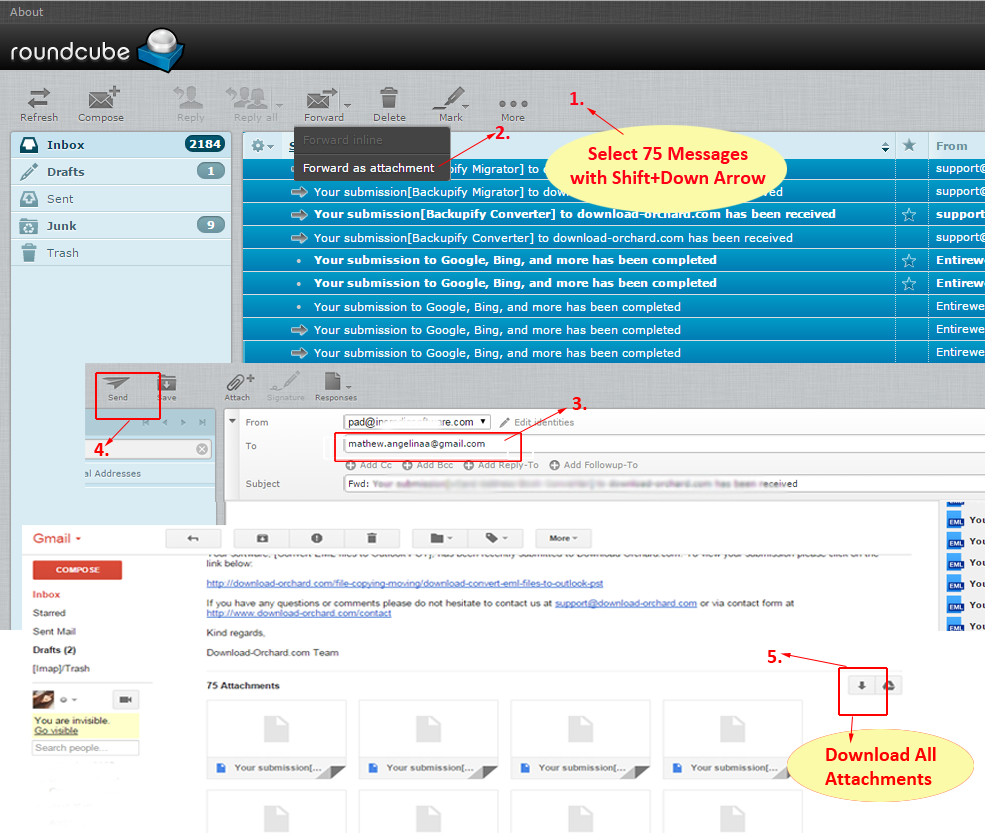 Note: Gmail will not accept mail of large size, so if it exceeds the size you can change the limit of the mails below than 70. Also keep repeating the process to convert more Roundcube Mails to PDF format.
When you will open the folder there will be mails with .eml format.
To convert Roundcube Mails to PDF download the "Roundcube Mail to PDF Converter" tool and Run it on your desktop version. Browse the folder containing Roundcube Mails, select your naming format. Click on convert, browse the saving location.
<span'serif'; color: #333333;">By using Roundcube Mail to PDF converter, you can convert unlimited files at a time. But as you can export 75 mails properly from the Roundcube at a time, collect all the files in a single folder after repeating the procedure of exporting mails from Roundcube. No convert those mails easily and save Roundcube Mails as PDF. Software has an amazing feature where it asks you to save all the mails attachment within the PDF or separately in folder.
Download its free version and make sure yourself about its working. After that you can go for its full licensed version.Tool is easy to use or can say user friendly. It will convert Roundcube Mails to PDF in batch mode too. There is no file size limitation with the software, convert as many as files you want to convert.
To Download Tool : Click Here