Free EMLX File Viewer
View Emails of EMLX File Extension without using any Email Client
Free EML Viewer tool which also performs EMLX Viewer tasks and helps to open mails of EMLX extension.
"We are working in a small firm where we have to work on Mac OS and Windows OS both as per the requirement. Sometime when I work from home where I don't use any email client on Windows OS. When I try to transfer mails of Apple EMLX format but unable to open emlx file or to read .eml files from Windows Live Mail backup file. Now, I want a permanent solution for this problem which can help me to read both files, something like EMLX reader Windows based and EML viewer."
For such kind of situation or problems like:
Someone has send you unreadable file with eml/emlx format.
EMLX format supported email client has been crashed or not working properly.
Permanently switched from the EMLX format supported email application.
You need to have reader or viewer tool.
In all the above problems there can be requirement of reading emails, as they can be useful for user. The permanent solution is to only go for a viewer tool. But before that it is must to know that, what difference in EML and EMLX file extension is.
EML Format: Message format of some applications or emails clients like Microsoft Outlook Express, IncrediMail, Zoho Mail, Roundcube, etc. and created mainly by windows based applications
EMLX Format: Email extension support by Apple Mail, Entourage which is Mac OS based emailing application. Apple EMLX format mails can be extracted by using export option.
To read any of the file format you must have the supported format email client with supported OS. If you are not available with any one of them then you can't be able to open and read mails. So, only perfect solution is a viewer tool and EML viewer to view EML format files and EMLX viewer for EMLX format. What if a tool supports both eml and emlx file extension both? It's like turns good into great. Other advantage what makes it one of the best and recommended tool is that it is portable.
How to Open EMLX file using EMLX File Viewer:
Download Free Eml File Viewer
Run Portable Viewer tool.
Open EMLX file from folder, use OPEN option or Press F2.
Now it's ready to preview uploaded emails, which will support both eml & emlx file format.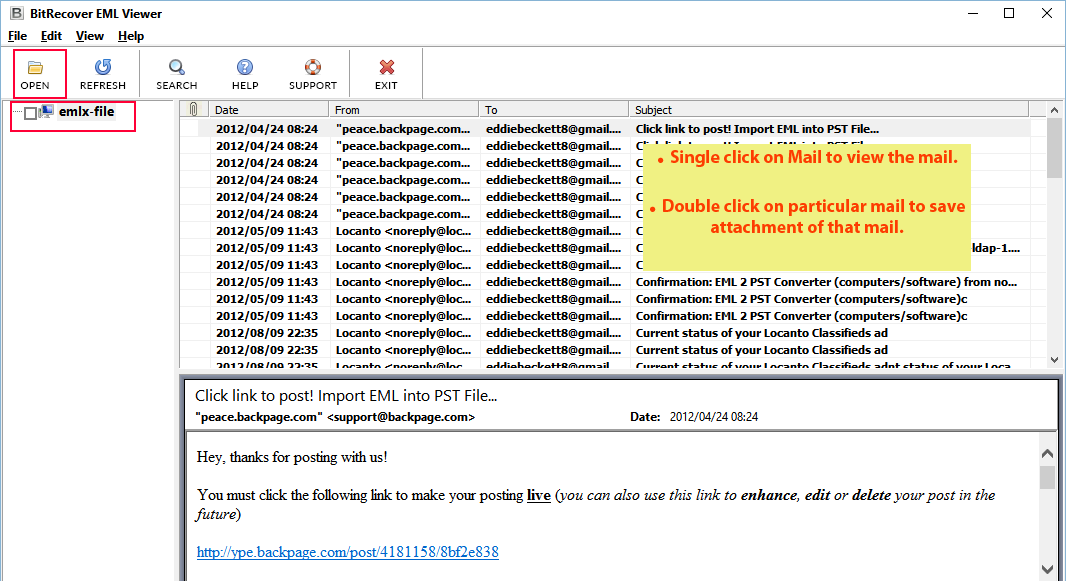 EMLX Reader Windows based utility have many more features like it can save attachments by double clicking on the selected mail. For more details Read More…
Other than viewing emails and saving the attachments you can also need to save these mails to many other document formats like PDF, RTF or email file extensions like .msg, .mbox, .mbx, .pst, .html. Try EMLX Converter the all in together conversion tool.