How to use Google Takeout to Download Gmail Backup Data
As we all know Google services includes Gmail, youtube, drives, hangouts, Google maps and etc. There can be possibilities when you need to backup Gmail all data. Like, in smartphones almost 90% of the people use Google account. Now you want to download Google app data backup, what will you do? For that Google has provided a service of Takeout. If you are searching to download Gmail backup data using takeout or how to backup Gmail all data then you must continue reading.
Follow all the steps below manually to download Gmail backup data or to download Google app data backup.
How to use Google Takeout:
Login Gmail account and Click My Account in the right most corner.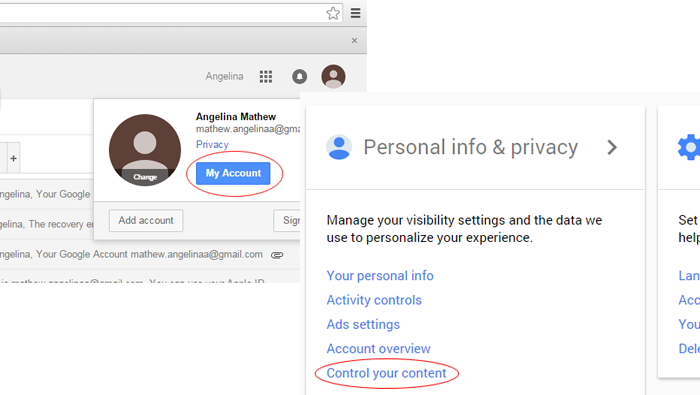 Click on Your Personal Info and go to Control your content.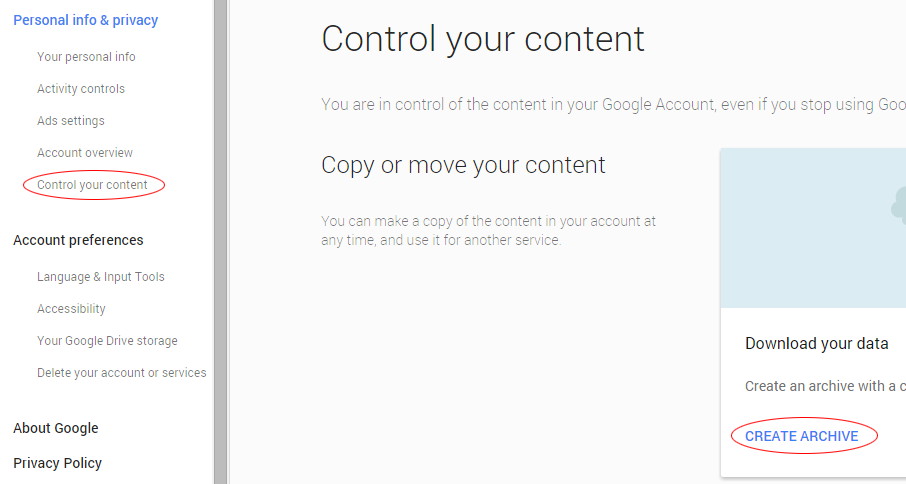 There you will see a list where you can Select data to Include as shown in the fig below.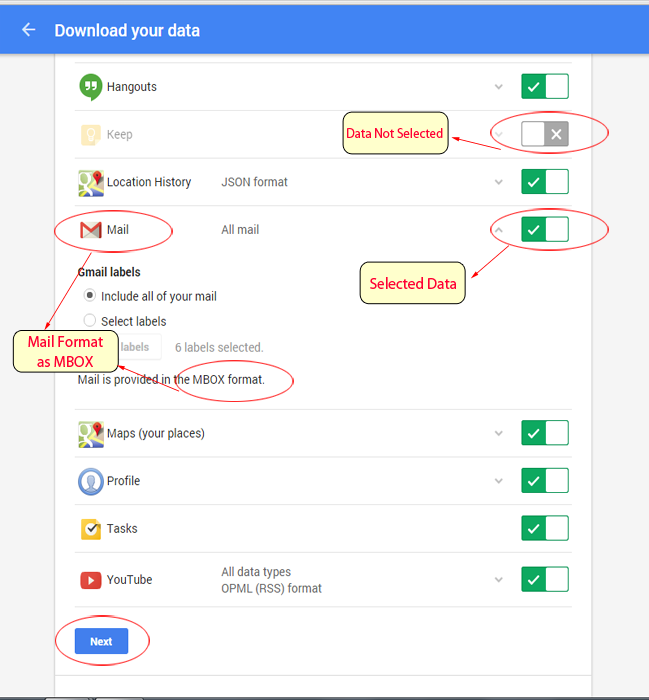 It will give you options to select particular data to download as per your need. Also there is additional option for Mail where you can download all the mails or selected labels according to your requirement or selection.
Click Next.
Now Select File type (.zip, .tgz, .tbz)
Click Create Archive (Link will be sent to your account too)    

     OR Select Delivery method as Add to Drive then click Create Archive (Can View in Drive)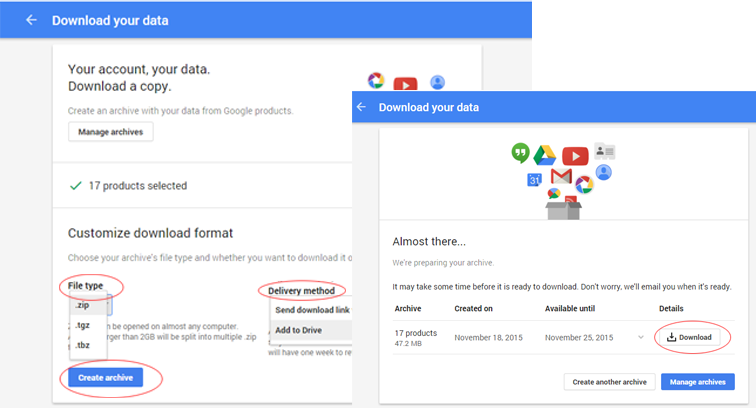 Note: It archives the data for 30 days only and also Archived data can be downloaded only 5 times.
It was all about when you want to backup Gmail all data as per you requirements.
Attention! Here you can see "Mail provided in MBOX format".
Now question arises if you want to open this MBOX file to read mails independently, what will you do?

Simple, open or save them in PDF format. Now again HOW? For this you can use third party tool like MBOX to PDF Converter. Tool will save all your MBOX mails in PDF format and that too with all attachments. Free demo version of this tool is also available.

It can also be noted that MBOX format is supported by number of Email Clients like – Thunderbird, Pocomail, mailbox, Eudora, Mac Mail, Bat, and Turnpike etc. This software will convert those emails also in PDF format.

Another, what if you want to import or open Gmail backup files in Email Clients like Windows Live Mail, Mac OS X Mail, Entourage, MS Outlook, Outlook Express, etc? Go for third party tool like MBOX Converter.  This software will allow you to open all Gmail mails in the discussed Email Clients. You can have trial by using its demo version for free.