Convert Zoho Contacts to Outlook
Zoho provide lots of services which includes mailing and contacts option too. Zoho Mails is the best option for mailing if you are using Zoho CRM and its other services. You can also login with your existing accounts too like Google, Yahoo, etc. Zoho doesn't provide any desktop version, which is its drawback.
There can be number of email clients where you can import Zoho mails but the problem is if the format of the email client is different from the Zoho Mails format then you will have to convert the mails. Like if you are using MS Outlook go for Zoho Mails to Outlook conversion tool as there is no direct and sure way of importing those mails to Outlook. You can face a lot of problems.
Similarly, if you want to export Zoho contacts to Outlook too then you will have to also go for a conversion tool. First, you will have to export Zoho contacts and then convert Zoho contacts to Outlook PST form and then import Zoho Contacts to Outlook.
Export Zoho Mail Contacts:
Click on Left most down corner Contacts Sign as shown in the pic.
Click on All Contacts or the category of contacts you want to export.
Click in 3 stacked dots and Select Export option
From Export Contacts Select VCF.
Click on Export Contacts.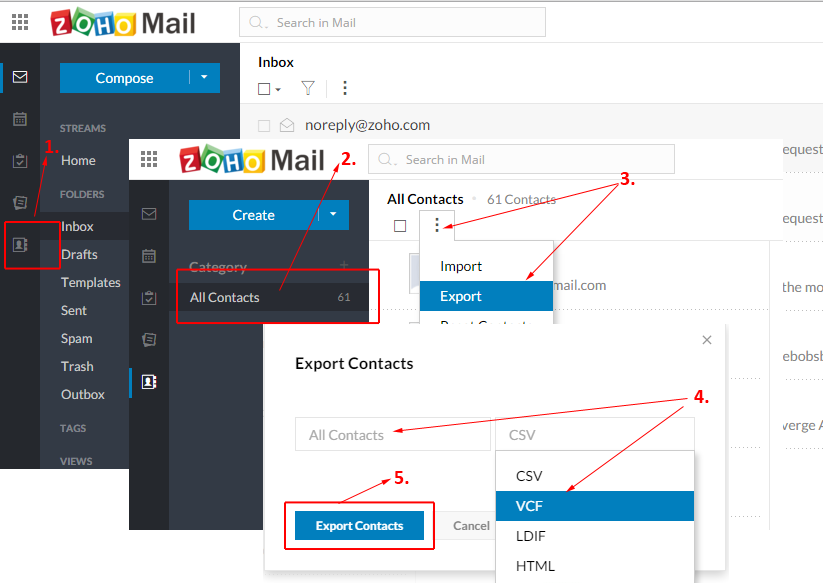 OR
Export Zoho Contacts:
Click on All contacts from the Category option at left side or the category of the contacts.
Now Select All or select desired contacts you want to export.
Right Click on All Contacts or chosen category of contacts and select "Export".
Next Click on second "Download" option "To export as vCard".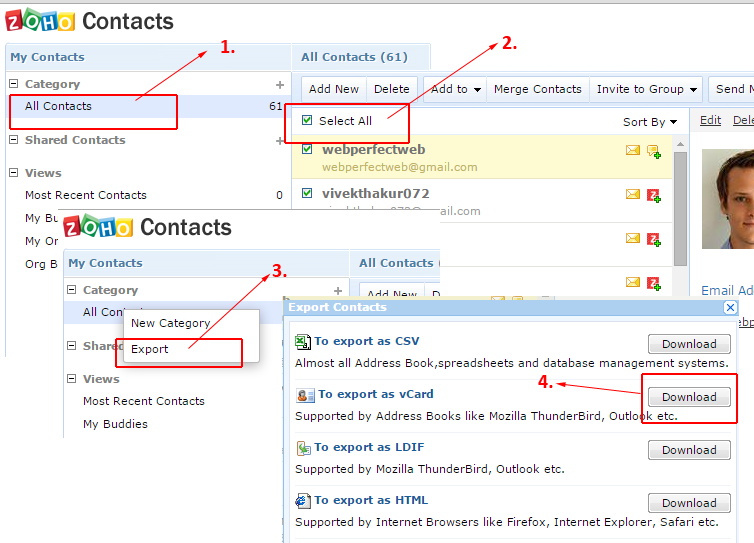 Convert Zoho Contacts to Outlook:
Now once you have exported Zoho Mail Contacts next task is to convert those Zoho Mail Contacts to Outlook PST format. Use vCard Importer to follow the task. Tool will help you to convert unlimited contacts at a time.
Know how to use Zoho Contacts to Outlook Converter Tool:
Download, Install and Run the Software on your Windows OS.
Add vCard file from the location you have downloaded the Zoho Contacts.
Click on Import Contacts and browse the saving location.
Imported Completed Message will appear, Click OK.
Tool will automatically import the converted contacts to Outlook if your Outlook account has been fully and correctly configured, otherwise you can import that .pst file directly from the import option of MS Outlook files.
Software will amazingly convert any vCard or vcf contact files or folder containing unlimited .vcf or vCard files.  Converted file will support all the Versions of Outlook and also it will support all the Windows OS.
You can make sure yourself about the product by downloading it and using the software. Trial version will allow you to convert first five contacts and for all contacts conversion you have to purchase its licensed version.
Download free Trial Click Here.