Backupify Converter to Convert Backup emails of Google Apps in Outlook
"Taking backup of each & every data in the field of I.T solutions is very crucial now days as it prevent us from losing any kind of data."
Here we discuss about the new Backup solution that is being developed for taking backup of data from Cloud / Google Apps account i;e named as "Backupify", an complete independent backup tool that allow users to obtain backup of all our data which are being saved in your Google Apps account.
This article is all about the "Backupify Converter", a utility that is planned & developed from the provider of the leading email migration solutions ; Birdie Software to export Backupify emails to Outlook, so that user can reuse their emails backup of Google Apps in other email client like; Microsoft Outlook mail directly. Backupify Converter tool easily export Backupify to Outlook .PST format all along with emails Meta data, Message formatting, Style & other left details.
Download Sample Version Order License
So any user who are looking for a solution to convert Backupify to Outlook can simply download and use the Backupify Converter software as it helps you to convert backup emails of Google Apps in Outlook mail directly converting all Gmail email messages (saved as .MBOX format) into PST file format.
Backupify Converter tool of Birdie Software comes with two different options - Take a look quickly ;
1. Single mode of Backupify email conversion – By selecting the "Select Backupify file(s)" option you are simply allowed to convert single or optional files at a time.
2. Multiple mode of Backupify emails conversion – Here is the second option which is "Select folder having backupify file(s)", it helps you to convert batch backupify emails to Outlook at single conversion cycle. No matter how files you have stored in your folder, software completely converts your entire backupify email files to PST file.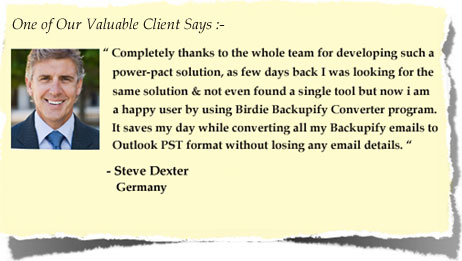 List of Magnificent Features of Backupify Converter :-
It's time to explain about the strong features of Birdie Backupify Converter
1. Ease of Use – The tool is completely designed with Easy-to-Use Graphical Interface, so that any novice user can use this software to export backupify emails to Outlook in easy steps like 1-2-3.
2. Retails Original Email Formatting or Text Format – All through the convert Backupify email MBOX to PST process, software absolutely maintains entire emails formatting such as – the body text formatting, text colour, body images, Header items (Subject, To, Cc, Date, etc), digital signature, text hyper links, embedded attachment files and so on.
3. Save Backupify email messages as - Software not only converts Backupify emails (MBOX file) to PST / Outlook but also convert Cloud backup emails to other email formats ;
a. Convert Backupify emails to EML files - You can use this saved email .eml formats into email clients like – Windows Live Mail, Outlook Express, Windows Mail, etc.
b. Convert Backupify emails to EMLX files - This email format (.emlx extension) is supported by the advanced version of Mac Mail which named as Mac OS X Tiger, Mac OS X Lion, Mac OS X Leopard, etc.
c. Convert Backupify emails to MSG files - As this email format is being supported by Office Outlook (saves its single mail in .msg file format), forensic tools and document management software's completely.
d. Convert Backupify emails to PST files - As we all know Backupify Converter tool convert Google Apps backup emails to Outlook, you can also use this .PST format in Outlook 2011 for Mac version.
4. Save Email Attachments exactly - This program easily maintains all email embedded attachments file during the backupify emails to PST conversion process. Backupify converter supports to saves attachments of any size, supports all file formats which are being saved in email attachments completely.
5.Software Support - You can export backupify emails to Outlook 2010, 2007, 2003 and the older versions of MS Outlook & the software also supports all Windows versions like; Windows 8 (New), Windows 7, Windows Vista, XP, etc.
6. Technical Help - The excellent technical staff is available by 24 x 7 to help users regarding any query related to Birdie Backupify Converter software.
Download the Free Trail Mode of Backupify Converter solution now

:



It is the best time to judge the software program by own. Get the free-trial first as it allows you to convert backup emails of Google Apps in Outlook with some limitations means it only converts 20 backupify email MBOX to PST file at single click. To efficiently use the software, take a look online help for - How to Convert Backupify emails to Outlook?
Don't felt hesitate, if you have any query regarding our tool.
Kindly shoot email at support@birdiesoftware.com or Chat with our Tech-Support Team